For July 7, 2015, here's how the stock market did today, earnings reports, the top stock market news, and stocks to watch based on today's market moves…
What Did the Stock Market Do Today?
Dow Jones: 17,776.91; +93.33; +0.53%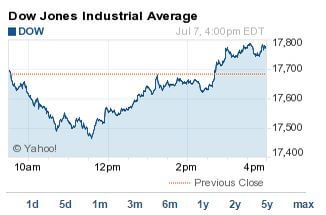 S&P 500: 2,081.34; +12.58; +0.61%
Nasdaq: 4,997.46; +5.52; +0.11%
The DJIA today reversed losses from the intraday session and finished up 93 points on the day. Oil prices rebounded slightly on the day after Monday's remarkable downturn. WTI crude futures for August added 0.6% to hit $52.89 per barrel. Brent oil prices added 1.4% to hit $57.32 per barrel.
Greece's prime minister is poised to offer a new set of proposals that could keep the nation in the Eurozone. However, German media have tempered expectations by reporting that the "new plans" are the same as the "old plans" and that Greek leaders seem very unwilling to accept austerity conditions for emergency cash. Concerns remain about what happens if Greece exits the euro, but the markets seem to view China's market woes as a long-term challenge that many investors can address later.
Top Stock Market News Today
Stock Market News: The Dow gained today despite concerns about Greece's economy, China's faltering stock markets, and news that the U.S. trade deficit in May hit $41.9 billion. The utilities sector added 1.7% on the day. Shares of Duke Energy Corp. (NYSE: DUK) added 3.3%, Southern Co. (NYSE: SO) added 2.6%, and NextEra Energy Inc. (NYSE: NEE) added 2.5%. Duke Energy was particularly strong today after it announced plans to hike its quarterly dividend.
International Insight: As the Australian dollar cratered below $0.74 in exchange value, the International Monetary Fund suggested that the U.S. Federal Reserve should not raise interest rates until 2016. The global financial agency said that domestic growth could be "decimated" by a surging dollar.
On Tap Tomorrow: On Wednesday, the June-ending earnings season officially kicks off. Companies reporting earnings this morning include Alcoa Inc. (NYSE: AA), Bank of South Carolina Corp. (Nasdaq: BKSC), Ceres Inc. (Nasdaq: CERE), Chase Corp. (NYSEMKT: CCF), and WD-40 Co. (Nasdaq: WDFC). Investors will also be paying close attention to the release of minutes from the Federal Open Market Committee's June meeting and the weekly crude inventory update.
Stocks to Watch: SHAK, AMD, TSLA, DEPO
More Top Profit Opportunities
Stay informed on what's going on in the markets by following us on Twitter @moneymorning.