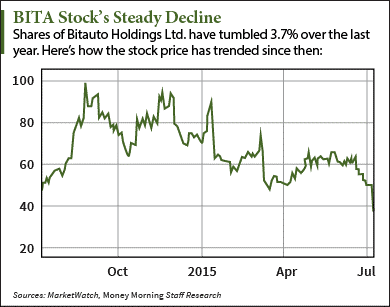 Bitauto Holdings Ltd. (NYSE ADR: BITA) is a leading Chinese e-commerce company that operates like an online showroom for car dealers. It sells online advertisements and provides reviews, pricing info, and other data for consumers.
Over the last two years, BITA stock has smashed the S&P 500 by 242%. It's up more than 273% since hitting the U.S. market in November 2010.
But BITA stock has seen a huge sell-off in the last year. Shares are down 3.7% since July 2014, and 36.1% in the last six months. In fact, the BITA stock price just closed at a 52-week low of $45.01 yesterday (Tuesday).
Here's what has caused Bitauto stock's yearlong tumble...
China's Economic Influence on the BITA Stock Price
Shares of Bitauto have become less attractive to American investors for one obvious reason - China's stock market is in the midst of a sell-off.
Earlier this year, China's stock market was showing warning signs of a bubble. The country's benchmark Shanghai Composite Index gained nearly 40% between March and June.
On June 12, the index closed at a seven-year high of 5166.35. The last time it closed near those levels was Oct. 12, 2007, when it settled at 5903.264. It ended up plunging 64% less than a year later.
China's market rally over the last year and a half came when the country's wider economic growth was slowing. After all, China's GDP growth decreased from 7.7% in 2013 to 7.4% in 2014. According to the International Monetary Fund (IMF), that growth is supposed to slow to 6.8% this year.
"China's stock market had become detached from reality of China's own economy, and appallingly overvalued," said Patrick Chovanec, managing director at Silvercrest Asset Management, in a tweet yesterday. "This is gravity taking effect."
The situation only seems to be getting worse. The Shanghai Composite Index has lost 30% of its value in just the past three weeks. BITA stock is down 17.4% over the same time.
With all of this bearish news from China weighing down BITA stock, investors are wondering what's next for the BITA stock price. Here's the full answer...
Will the BITA Stock Price Rebound in 2015?