It's not unprecedented for the New York Stock Exchange to shut down. In its 223-year history, the index has had more than 400 "special closings."
But Wednesday's unexpected three-hour closing came without warning. It left investors confused -- even panicked -- and asking the question, "Why did the NYSE shut down today?"
You see, the NYSE "temporarily halted" trading at 11:32 a.m. ET. It resumed at roughly 3:10 p.m. ET.
About an hour before trading was halted, the NYSE reported it had a technical issue that had been resolved.
But then the market began to shut down. The NYSE's share of all trading volume on U.S. markets dropped to 7.4% a little before 11 a.m. ET (compared to a typical roughly 10%). The drop was pretty quick from there. By 11 a.m., it fell to 4.8%, and by 11:20 a.m., to 2.6%. Trading halted at 11:32 and 57 seconds.
Here's what happened...
Why the NYSE Shut Down Today: A "Technical Issue"
A "technical issue" is why the NYSE shut down today, according to index representatives.
The timeline is as follows...
In a brief statement immediately following the halt, the NYSE wrote in a statement, "NYSE/NYSE MKT has temporarily suspended trading in all symbols. Additional information will follow as soon as possible."
Then just after noon, NYSE spokeswoman Marissa Arnold wrote in an emailed statement, "We're currently experiencing a technical issue that we're working to resolve as quickly as possible. We will be providing further updates as soon as we can, and are doing our utmost to produce a swift resolution, communicate thoroughly and transparently, and ensure a timely and orderly market re-open."
At 12:09, NYSE tweeted about "a technical issue."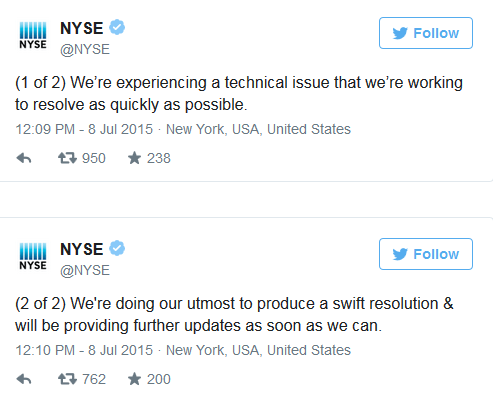 Then at 12:28 p.m., the exchange elaborated and dispelled rumors of a cyberattack.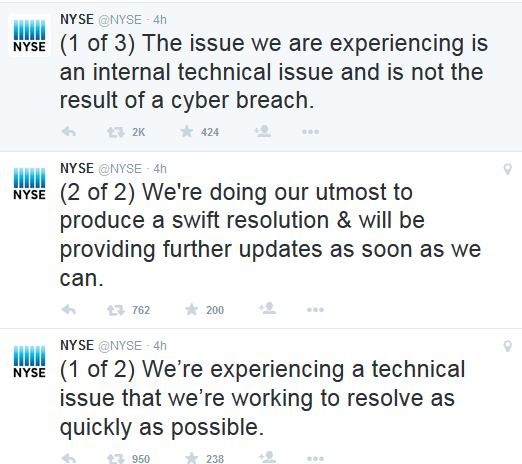 Also around 12:30 p.m., U.S. Securities and Exchange Commission (SEC) Chairwoman Mary Joe White issued a statement, "We are in contact with NYSE and are closely monitoring the situation and trading in NYSE-listed stocks. While NYSE is working to resolve the situation, NYSE and NYSE MKT stocks continue to trade normally through other trading venues."
The White House said President Obama had been briefed on the trading halt and that the Treasury Department would be monitoring the situation.
At 3:10 p.m., the NYSE reopened and tweeted:

Here's what the shutdown did to markets - plus other strange occurrences on Wednesday...