Before the halt, the Dow Jones Industrial Average and the broader S&P 500 were down. Volumes were extremely low after trading restarted.
The Chicago Board Options Exchange Volatility Index (VIX), a "fear gauge" that measures market volatility, jumped after trading was suspended. The index rose from around 18.11 immediately after the halt to trade as high as 19.10. By market close, it finished at 19.66, for a daily rise of 22%.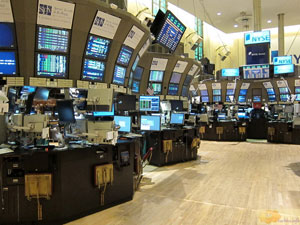 The DJIA finished down 261 points (1.47%). The S&P and Nasdaq both fell 1.67% and 1.75% respectively.
Besides being rattled by the NYSE shutdown, domestic investors – many who sat out the final hour of buying and selling – were already on edge over concerns regarding Greek and Puerto Rican debt and the ongoing freefall in the Chinese stock markets.
There was no interruption at the dozens of other U.S. stock exchanges Wednesday, including the Nasdaq, so investors were still able to buy and sell stocks easily.
Sign up for SMS so you never miss special events, exclusive offers, and weekly bonus trades.
Coincidentally, the New York Stock Exchange wasn't the only institution to experience a technical glitch on Wednesday. Break out the tin foil hat…
United Airlines temporarily grounded all flights for several hours the same morning. It blamed "connectivity issues." Additionally, The Wall Street Journal's site unexpectedly shut down for a time.
Why Did the NYSE Shut Down Yesterday?
It's not unprecedented for the New York Stock Exchange to shut down. In its 223-year history, the index has had more than 400 "special closings."
But Wednesday's unexpected three-hour closing came without warning. It left investors confused — even panicked — and asking the question, "Why did the NYSE shut down?"
You see, the NYSE "temporarily halted" trading at 11:32 a.m. ET. The New York Stock Exchange Reopens at roughly 3:10 p.m. ET.
About an hour before trading was halted, the NYSE reported it had a technical issue that had been resolved.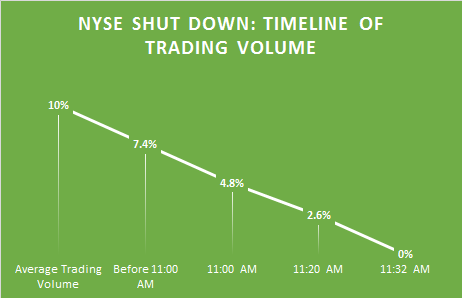 But then the market began to shut down. The NYSE's share of all trading volume on U.S. markets dropped to 7.4% a little before 11 a.m. ET (compared to a typical roughly 10%). The drop was pretty quick from there. By 11 a.m., it fell to 4.8%, and by 11:20 a.m., to 2.6%. Trading halted at 11:32 and 57 seconds.