Strong insider buying is one of the most accurate indicators that a stock is headed higher. So whenever we see a stock that has strong insider buying, we alert our readers.
But we frequently hear the same question from readers: What is the difference between insider buying and insider trading?
Here's the difference between the two, and why insider buying is such a strong "Buy" signal...
Insider Buying vs. Insider Trading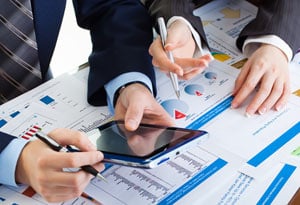 Insider trading is the buying or selling of a stock by someone who has privileged information about the company. This information is not public and gives the insider trading an unfair advantage.
It is also illegal. Insiders are eventually allowed to act on any information they have once it has been made public.
Providing nonpublic information to others who then profit from it is also considered insider trading.
And it's not just employees who are frequently caught for insider trading. Directors, brokers, and sometimes even family members of employees commit insider trading.
In April 2014, a massive insider trading story broke when KPMG partner Scott London was sentenced to 14 months in jail. He had been sharing tips about his company's clients with one of his golf buddies, who made investments based on these tips. The insider information has led to hundreds of thousands in profits.
Insider buying, on the other hand, is the legal purchase of stock by someone who is employed by the company. "Insiders" include CEOs, company directors, board members, or any other employees.
These purchases are not based on nonpublic information. Instead, inside buyers are simply showing their confidence in the company by buying large chunks of the stock.
"In fact, spotting insider buying is a good way to consistently beat the market," Money Morning Defense & Tech Specialist Michael A. Robinson said. "Basically, this is about as bullish an indicator of a company's future as you can find."
Here's why insider buying is such an important indicator...
Why Insider Buying Is Such a Bullish Indicator