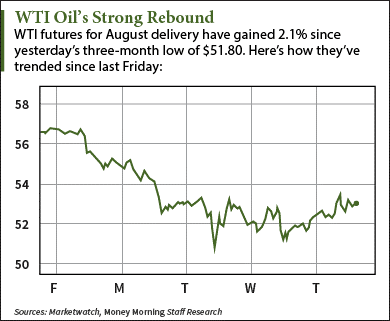 Why the WTI crude oil price is up today, July 9, 2015: The WTI crude oil price surged today (Thursday) after a five-day decline as China's market sell-off waned and Iran's nuclear negotiations continued.
By 2:15 p.m., WTI oil prices were up 2.42% and trading at $52.91 a barrel.
The U.S. benchmark is on track to erase this week's losses if it settles above Monday's close of $52.68. WTI has had a rough month so far, plummeting 7.1% since July 1.
Brent oil prices surged even higher. The international benchmark ticked up 2.96% to $59.09 a barrel. It's currently down 5.4% in July.
Here's a breakdown of why the WTI crude oil price is up today…
Two Reasons Why the WTI Crude Oil Price Is Up Today
The main reason why the WTI crude oil price is up today is the huge rebound in China's stock market. Chinese shares made their biggest daily gain in six years today, with the Shanghai Composite Index surging 5.8%.
The Shanghai Index's turnaround came after losses in eight of the last 10 trading days. It has fallen 27.5% over the last month. Since China is one of the largest oil consumers in the world, the country's turmoil results in reduced demand and lower prices for oil.
Meanwhile, Iran and the six Western powers have yet to reach an agreement on the state of Iran's nuclear program. Congress could have an extra month to review the deal, which offers a bullish outlook for oil prices over that time. A deal would lift sanctions on Iran and allow it to flood the oil market with excess supply.
But these events won't drive oil prices up over the long term.
According to Money Morning Global Energy Strategist Dr. Kent Moors, there's a fundamental phenomenon happening right now that will push prices higher in 2015.
Here's why oil will be in the $73 to $78 range – or even higher – by the end of the year…