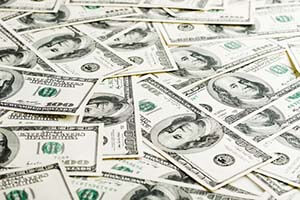 Policymakers need to start being more honest about how the U.S. debt works.
It's an age-old debate among the members of Congress. How do we cut the budget? How do we reduce the debt?
But the argument over whether to raise taxes on the rich or cut spending to social programs is not the most frustrating part of this never-ending debate.
Rather, the whole debate is built off a misunderstanding of how the U.S. debt works and how the government spends money.
At best, Congress is ignorant of the process. At worst, they're fully aware of how the U.S. debt works and are simply molding their arguments to push a sinister political agenda.
Here's what no one in Congress is telling you about how the U.S. debt works...
How the U.S. Debt Works
The U.S. Federal Reserve acts as the U.S. government's banker. It is also the banker for the private sector's commercial banks and for foreign holders of U.S. dollars.
When the government wants to make a purchase, it simply wires money to a commercial bank and those funds are held as an overdraft in the commercial bank's reserve account at the Fed.
Let's say the U.S. government wanted to buy a weapons system from a defense contractor. They would wire those funds to the commercial bank holding that defense contractor's account. And the defense contractor could then withdraw those funds and convert them to cash, or more likely, let them sit in the commercial bank's reserves until they want to draw on them to pay a business expense.
Where did the U.S. government get that money in the first place? It wasn't drawing on tax money or surplus funds.
It simply changed numbers on a digital spreadsheet with keystrokes on a computer keyboard. If the weapons system cost $10 billion, the U.S. Treasury would simply mark up the reserve account of the bank $10 billion for the defense contractor.
That's all government spending is. The United States issues the dollar. It can create dollars out of thin air indefinitely. There is no spending constraint. Anyone who says the United States is running out of money or who thinks the U.S. government would be unable to pay back debt doesn't understand how the U.S. debt works.
That brings us to the issue of the $18.2 trillion debt.