There are many entities in charge of issuing an IPO, and the underwriter is paramount to a new stock's success.
But what does an IPO underwriter do exactly?
The lead IPO underwriter – or underwriters – is the company that distributes the newly issued shares of a stock. The underwriter is generally thought of as the middleman between the company and its IPO investors.
That's just the broad definition. Here's a breakdown of what an IPO underwriter is…
What Does an IPO Underwriter Do?
There are typically multiple underwriters – sometimes referred to as bookrunners – of a newly issued stock. They mostly include investment banks like Morgan Stanley (NYSE: MS), Goldman Sachs Group Inc. (NYSE: GS), and Bank of America Merrill Lynch.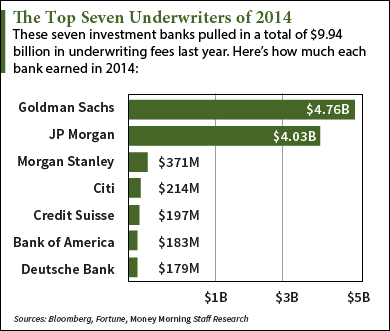 Larger IPOs require more underwriters to issue the stock. For example, the Alibaba Group Holding Ltd. (NYSE: BABA) IPO was the largest U.S. IPO ever, requiring six different underwriters. They included Credit Suisse Group AG (NYSE ADR: CS), Deutsche Bank AG (USA) (NYSE: DB), Goldman Sachs, JPMorgan Chase & Co. (NYSE: JPM), Morgan Stanley, and Citigroup Inc. (NYSE: C).
These IPO underwriters employ specialists who ensure the newly issued company satisfies all regulatory requirements, such as filing with the U.S. Securities and Exchange Commission (SEC) and paying all necessary fees. These specialists provide three main services during the underwriting process…
What Does an IPO Underwriter Do, Task No. 1: Give Advice
Most private companies have no idea how to proceed with a new stock offering. Since they participate in the market every day, investment banks can offer guidance to those companies looking to go public.
The most important advice underwriters give is when a company should go public. If, for example, competitors recently released a poor earnings reports, it may be better to wait before attempting a sale. That's because companies want to time the market to sell stock when it will obtain the highest possible price. Again, because they interact with the market every day, investment banks can properly advise firms on the timing of their IPOs.
Here are two more tasks an IPO underwriter performs for its client companies…