Technology is the engine of the U.S. economy.
So wouldn't it be nice if we had a president who understood the Internet of Everything, Big Data, cloud computing, and all the other paradigm-altering advances coming out of Silicon Valley at an incredibly rapid pace?
Well, there is a candidate for president hitting the campaign trail now who is well-versed in all these "pools of innovation."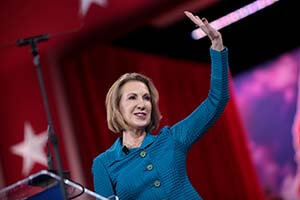 She's largely running under the radar of the mainstream media and the U.S. political establishment right now – so you may not know about this candidacy yet.
But you should.
I'm not endorsing her (yet), but today I want to tell you all about her.
And then I'm going to show you why her candidacy – whether she wins or loses – is good news for technology investors like you…
The Silicon Valley Candidate
I think the 2016 presidential election will be extremely important, especially when it comes to the economy and technology's place in it.
That's why when Republican Carly Fiorina threw her hat into the ring, I took notice.
After all, Fiorina was the most powerful woman in business during her 1999-2000 stint as CEO of Hewlett-Packard Co. (NYSE: HPQ), shares of which have had a peak gain of 64.3% since I first recommended them to you in July 2013.
Carly Fiorina is the presidential candidate from Silicon Valley.
Not only was Fiorina the first female to lead a Fortune 20 company, but she served as the captain of a global tech enterprise that was struggling to navigate through the troubled waters of the early 2000s.
And let's be honest here. HP was a tough ship to steer.
Fiorina instigated the merger between HP and Compaq Computer Corp. in 2002, which ultimately strengthened HP's market position and enabled the Silicon Valley pioneer to become a major player in desktops, laptops, and servers.
On the other hand, Fiorina laid off 30,000 people as a result of the merger. And HP's stock price dipped more than 50% during her tenure.
Fiorina's decision making ruffled the feathers of her board of directors (HP founder Bill Hewlett's son Walter Hewlett in particular), and she was ousted in 2005. But when she left, the company was operating in 170 countries – 50 more than when she took the job.
And she left with the respect of other tech leaders.
Since 2005, she's joined several powerful boards, including the Massachusetts Institute of Technology Board of Trustees and the Foundation Board of the World Economic Forum.
Now, as I said before, the White House could use a leader who eats, sleeps, and drinks tech. A truly tech-savvy president would ensure that the United States and Silicon Valley remain at the forefront of global innovation.
Here's why that's important to you…
Join the conversation. Click here to jump to comments…
About the Author
Michael A. Robinson is one of the top financial analysts working today. His book "Overdrawn: The Bailout of American Savings" was a prescient look at the anatomy of the nation's S&L crisis, long before the word "bailout" became part of our daily lexicon. He's a Pulitzer Prize-nominated writer and reporter, lauded by the Columbia Journalism Review for his aggressive style. His 30-year track record as a leading tech analyst has garnered him rave reviews, too. Today he is the editor of the monthly tech investing newsletter Nova-X Report as well as Radical Technology Profits, where he covers truly radical technologies – ones that have the power to sweep across the globe and change the very fabric of our lives – and profit opportunities they give rise to. He also explores "what's next" in the tech investing world at Strategic Tech Investor.