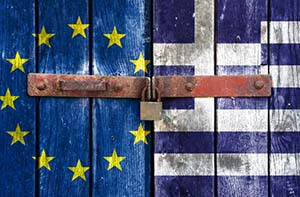 Stocks around the world were in the green Monday as Greece agreed to the latest bailout – its third – and the threat of an immediate default and "Grexit" from the Eurozone faded.
Or so goes the thinking.
But the problems at the root of the Greek debt crisis have in no way been "solved."
Both Greek and European Union leaders are guilty of not only kicking the proverbial can down the road but doing so, according to former German Economic Minister Karl-Theodor zu Guttenberg, "up a hill and wondering why it keeps rolling back on its foot."
I couldn't agree more strongly.
The entire premise behind the euro and the EU, in particular, is based on one of mutual economic strength through cooperation and a common currency. According to Bloomberg, Greece's domestic GDP was about half of Germany's in 2001 when it joined the euro. Now, it's 40% worse.
A Grexit is the only way out here.
The Case for a Grexit
Greece needs it to re-establish sovereignty and rebuild what little growth the nation has available to it. The EU needs that to happen because the European Central Bank (ECB) cannot continue to establish a buffer against future catastrophes forever.
That seems logical. Yet politicians are fighting it because they fear another country would make a break for it once a Grexit becomes a reality. My guess is Spain or Portugal steps up.
In that sense, the Greece debt crisis is a kind of "prisoner's dilemma."
If you're not familiar with the term, the prisoner's dilemma is an exercise in game theory created in the 1950s by Merrill Flood and Melvin Dresher while working at RAND.
The premise, in a nutshell, is that the desire for a greater reward will cause a prisoner to choose to abandon cooperation with a fellow prisoner – even though cooperation is in the mutual interest of both.
Here's the scenario: Two gang members are brought in to a jail and separated…
Join the conversation. Click here to jump to comments…
About the Author
Keith Fitz-Gerald has been the Chief Investment Strategist for the Money Morning team since 2007. He's a seasoned market analyst with decades of experience, and a highly accurate track record. Keith regularly travels the world in search of investment opportunities others don't yet see or understand. In addition to heading The Money Map Report, Keith runs High Velocity Profits, which aims to get in, target gains, and get out clean, and he's also the founding editor of Straight Line Profits, a service devoted to revealing the "dark side" of Wall Street... In his weekly Total Wealth, Keith has broken down his 30-plus years of success into three parts: Trends, Risk Assessment, and Tactics – meaning the exact techniques for making money. Sign up is free at totalwealthresearch.com.