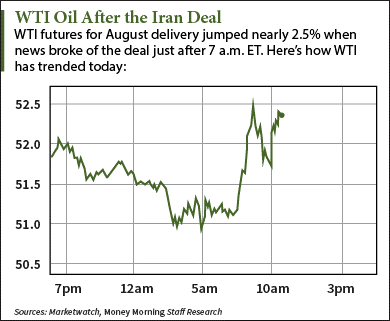 Crude oil futures surprisingly surged higher today (Tuesday) after 20 months of Iranian negotiations finally culminated in a landmark nuclear deal this morning.
At noon today, WTI crude oil futures were up 1.59% to $53.03 a barrel. The U.S. benchmark has been volatile recently, gaining 2.1% in the last week but falling 6.9% so far in July.
Brent crude oil futures also climbed this morning. The international benchmark gained 0.81% to $58.62 a barrel. It has also gained 2.1% in the last week but is down 6.2% since July 1.
Today's move in crude oil futures followed monumental news that representatives of Iran, the United States, and other Western powers reached a final Iranian nuclear deal. The deal came after years of talks and two weeks of long meetings over how to limit the Middle Eastern country's nuclear activities.
"Today, after two years of negotiation, the United States, together with the international community, has achieved something that decades of animosity has not: a comprehensive long-term deal with Iran that will prevent it from obtaining a nuclear weapon," President Obama said from the White House this morning. "This deal is not built on trust. It's built on verification."
The many terms of the deal include limiting uranium research and increasing inspections of uranium mining and production facilities.
But the most significant tenets of the deal involve Iran's export sanctions. In exchange for reduced nuclear research activity, the country is allowed to start producing and exporting more oil. Many analysts believe this new capability will flood more oil into an already oversupplied market and push prices lower.
But Money Morning Global Energy Strategist Dr. Kent Moors says the new deal won't crater crude oil futures for one fundamental reason…