[This story was updated on Aug. 7, 2015.]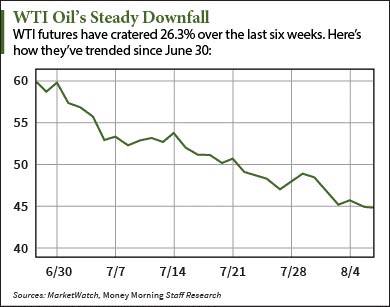 Crude oil prices fell 1.2% to $44.12 around 10:30 a.m. today (Friday). According to Reuters, they're on their longest run of weekly losses since January at six consecutive weeks.
Futures have been on a massive sell-off since the Iran nuclear deal broke last month. The accord came after years of negotiations and will lift sanctions on the Middle Eastern nation's oil industry. Investors are worried Iran will flood the already oversupplied market with more crude oil, sending prices into an even deeper hole.
But according to Money Morning Global Energy Strategist Dr. Kent Moors, Iranian oil won't hit the market that fast. By the time it does, oil prices will have fully restabilized.
Let's take a look at the Iran nuclear deal and its long-term impact on U.S. oil prices...
What Is the Iran Nuclear Deal?
The Iran nuclear deal will prevent Iran from conducting nuclear weapon research. In exchange, various economic sanctions on the country will be lifted.
Sign up for SMS so you never miss special events, exclusive offers, and weekly bonus trades.
Many points of the deal target uranium. Uranium is a key fuel used in nuclear weapons when it has a high purity percentage. The agreement states Iran must keep its stockpile of uranium below 300 kilos and can't produce enriched uranium over 3.67% purity for 15 years. Iran is allowed to keep operating all three of its nuclear facilities but can only enrich uranium in one of them for 15 years.
Neighboring Israel and Congressional Republicans oppose these measures. They argue these rules simply delay the country's path to creating nuclear weapons instead of stopping it altogether.
"Instead of making the world less dangerous, this 'deal' will only embolden Iran - the world's largest sponsor of terror - by helping stabilize and legitimize its regime as it spreads even more violence and instability in the region," explained Republican House Speaker John Boehner in a statement.
The Republican-heavy Congress will review and most likely vote against the Iran nuclear deal in early September. Afterward, U.S. President Barack Obama is expected to veto the bill in his push to make it the centerpiece of his diplomatic legacy.
But the United States isn't the only country involved in the Iran nuclear deal...
What Countries Are Involved in the Iran Nuclear Deal?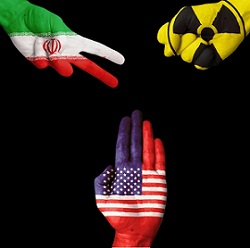 There are six powers pitted against Iran: the United States, United Kingdom, Russia, China, France, and Germany.
The group is referred to as the P5+1. The "P5" represents the five countries that are members of the United Nations Security Council, while the "+1" refers to non-member Germany. The P5+1 was formed in 2006 when China, Russia, and the United States joined the Iran nuclear deal negotiations. Those three joined the three European Union countries - the UK, France, and Germany - who had been in negotiations since 2003.
Once Iran starts to scale back its nuclear program, the P5+1 - along with other EU and UN members - will be responsible for lifting Iran's sanction against ramping up oil exports.
For many, the biggest question about the Iran nuclear deal is how it will impact U.S. oil prices...
Will U.S. Oil Prices Increase with the Iran Nuclear Deal?