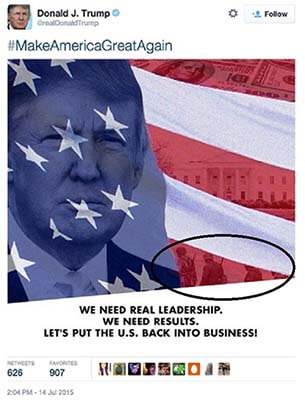 The Donald Trump campaign hit an embarrassing bump on the election trail yesterday (July 14). A Trump intern tweeted a promotional photo that accidentally featured Nazi soldiers.
According to an NBC News report, an intern created the image and failed to notice the faded figures within the flag of the stock photo. The photo also contained the White House, a $100 bill, Trump's face, and the phrase, "We need real leadership. We need results. Let's put the U.S. back into business!"
The tweeted mistake is the newest controversy plaguing the Donald Trump campaign. A month ago in his June 16 announcement speech, the real estate mogul made headlines for likening Mexican immigrants to rapists. Trump said, "When Mexico sends its people, they're not sending their best. They're sending people that have lots of problems. And they're bringing those problems with us. They're bringing drugs. They're bringing crime. They're rapists."
The verbal tirade prompted Mexican cartel chief Joaquin "El Chapo" Guzman to tweet a death threat targeting Trump on July 13. This was just one day after Guzman successfully escaped from a Mexican prison. In his tweet, which was also loaded with Spanish profanities, El Chapo promised to make Trump "eat his words."
In much less cinematic yet troubling Trump news, the billionaire has also had to clarify claims made by various media sources that he'd gone bankrupt. On June 19, Trump tweeted: "Stop saying I went bankrupt." He then explained he'd simply used bankruptcy laws to his (and shareholders') corporate advantage in the past. Trump's tweet was truthful — here's an in-depth breakdown of all the Donald Trump bankruptcy charges…