Intel earnings update: Intel defied analysts' gloomy expectations with a strong beat on earnings. Earnings per share was $0.55, well above the forecast for $0.50 a share. Revenue was $13.83 billion, beating expectations for $13.04 billion. The company said that strong growth in its memory, Internet of Things, and data center businesses offset weakness in the PC business. INTC stock rose about 6% in after-hours trading Wednesday evening.
A wave of negative Intel stock ratings and price target reductions over the past couple of months has weighed heavily on Intel Corp. (Nasdaq: INTC) shares.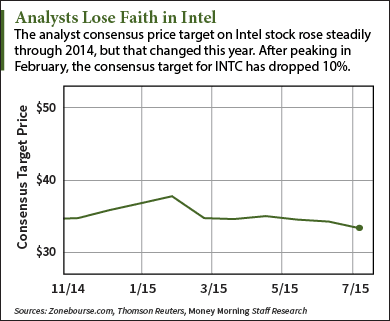 And while the world's biggest chipmaker has hit a few bumps while it transitions from its historic dependence on the PC market to the growing mobile and data center markets, Wall Street has overreacted.
Depending on what the Santa Clara, Calif.-based company says when it reports earnings after the market close today (Wednesday), the Intel stock ratings could sink further.
Not every analyst that covers Intel hates it, but since the beginning of June there have been six price target reductions and three downgrades.
Two analysts, Goldman Sachs Group Inc. (NYSE: GS) and Asia-based brokerage CLSA, have a "Sell" label on their Intel stock ratings. Both have reiterated that "Sell" rating in the past two months, with Goldman doing so twice.
The consensus price target on INTC stock has dropped 10% since peaking in February at $37.17. The current Intel stock price target is $33.43.
The lowered Intel stock ratings are one reason why INTC shares are down more than 18% for 2015. Intel stock hit a 52-week low of $28.82 on July 9. Intel stock was trading at $29.65 on Wednesday afternoon.
So why are these analysts so down on Intel stock lately?
Why Intel Stock Ratings Have Gone South
The biggest reason is the continuing decline in PC sales. Intel has long dominated the processor market for personal computers. The company's PC business was still responsible for more than half of Intel's operating income in Q1 of 2015.
That was great in the 1990s when PC sales were booming, but not so much these days. Research firm Gartner reported earlier this month that PC shipments declined 9.5% in Q2 – the worst decline in two years.
Intel lowered its own guidance back in March, citing worsening PC sales.
Other chipmakers, such as Micron Technology Inc. (Nasdaq: MU) and Advanced Micro Devices Inc. (Nasdaq: AMD), lowered guidance in recent weeks, which analysts see as confirming a bleak trend.
Meanwhile, analysts aren't particularly optimistic about Intel's Data Center Group, which is providing the bulk of the company's growth now. Their concerns deepened with a weak demand warning last week from QLogic Corp. (Nasdaq: QLGC), which makes components for servers that use Intel chips.
All are legitimate concerns.
And yet it would be a mistake to write off Intel stock…