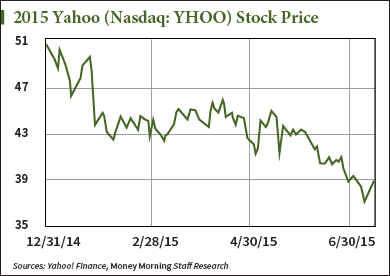 It's been a frustrating ride for Yahoo stock this year.
And a sum-of-the-parts valuation gives a troubling glimpse at just how Wall Street values this floundering online content and media giant.
Yahoo! Inc. (Nasdaq: YHOO) holds 383.5 million shares of Alibaba Group Holding Ltd. (NYSE: BABA) stock, worth about $31.4 billion at current market prices. Yahoo holds a further 2 billion shares in Yahoo! Japan, worth about $7.9 billion. Yahoo holds about $6.9 million in cash.
All of these holdings added together total $39.3 billion. Yahoo's market cap based on the most recent Yahoo stock price is about $36 billion.
That means when all is said and done, the market values Yahoo's core business at negative $3 billion.
Yahoo stock is cheap at around $39. But when the curtains are pulled back and Yahoo's holdings are accounted for, the market price of Yahoo stock's core business is around negative $3.50 a share.
Granted, this is a very simplified way of assessing Yahoo stock and doesn't account for all the nuances being priced into the company at the moment. But this is the same sum-of-the-parts valuation model that Yahoo's bulls used in the run-up to the Alibaba IPO to deem it underpriced, and it helped Yahoo stock soar almost 200% under CEO Marissa Mayer.
But what is Yahoo stock's value? It's necessary to figure out so investors wondering "Should I buy Yahoo stock right now?" know how to answer that question.
Here's what you need to understand.
Why Yahoo Stock Is Down Big in 2015
If you're going by the sum-of-the-parts valuation, Yahoo stock is extremely underpriced right now.
Yahoo has the No. 1 online property on the web and more than 800 million viewers. Yet with those valuation metrics, the market is essentially saying that Yahoo's core business is not just worthless, it's a net negative. It's so bad that its mere presence is bringing down the value of its cash and stock holdings.
At worst, Yahoo's core business is worthless. And if the market valued Yahoo at least at zero dollars, the total Yahoo stock price accounting for all its other "parts" would be worth around $41.90 - not its current price of around $39.
That would be a quick 7.6% gain once the market values Yahoo correctly.
But there's more to consider...