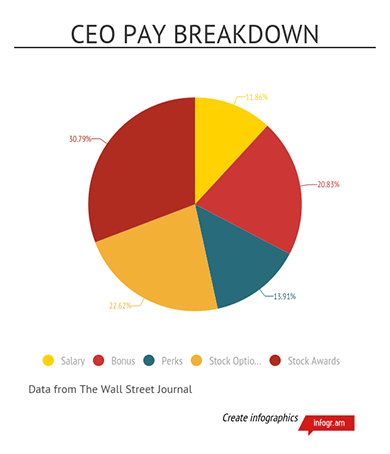 The highest-paid CEOs in America's 350 largest firms earned, on average, a whopping $16.3 million last year, according to a June 24, 2015, report from the Economic Policy Institute. This amount topped the 2013 average by $1.3 million, according to The Wall Street Journal.
That extra cash came in the form of bonuses and awards.
You see, 2014 was something of a bumper year for big company share performance, which neared or soared past record highs. (The S&P 500 rose 11.81% in 2014, the Dow gained 8.16%, and the Nasdaq gained 15.64%.) Some CEOs took advantage of the bull run by collecting massive compensation packages.
But rising CEO compensation didn't sneak past investors -- instead, it became a rather controversial topic. IBTimes stated on June 24 that investors are pressuring corporations in which they have stake to connect executive compensation directly to share price returns. They have also sometimes demanded a share of the profit themselves, via dividend hikes.
Of course, that pressure has only gone so far -- several of the top-paid CEOs received increases in 2014 despite lackluster shareholder returns, according to The Wall Street Journal's annual pay survey. For example, "Compensation for [Viacom Inc.'s Philippe] Dauman, a regular in the Top 10, rose 19% to $44.3 million, putting him at No. 7 on the list. Total shareholder return at the media giant, meanwhile, came in at a negative 6.6%, ranking Viacom 263."
In fact, CEO pay has continued to rise on average by 12% annually, according to The Seattle Times on June 20, 2015.
It's no wonder one in four shareholders of companies with the top ten highest-paid CEOs expressed dissatisfaction with top-tier compensation packages.
With that in mind, here are the highest-paid CEOs in the United States right now - do you think they've earned it?
List of the 10 Highest-Paid CEOs in the U.S.
Highest-Paid CEOs No. 10: Les Moonves
As President and CEO of CBS Corp., Moonves received cash compensation of $29.9 million last year, plus stock and options that paid an additional $24.5 million. Moonves joined the company in July 1995 as president of entertainment after leaving his job at Warner Bros. Television, where he helped develop "ER" and "Friends." Here's a fun fact: On June 1, 2015, Gawker reported the mega-millionaire was caught on tape stiffing a valet because he only carries hundreds. In 2014, CBS's share price dropped 13%.                                
Highest-Paid CEOs No. 9: David Hamamoto
According to a June 22 article on TheRealDeal, Hamamoto was the highest-paid CEO in real estate in 2014. He raked in $11.6 million in cash compensation and $48.7 million in stock and options. Hamamoto became CEO and chairman of NorthStar in January 2014. Before this, he was the chairman of the board of directors of NorthStar Realty Finance. He has also served as one of its directors since October 2003. Northstar's share price dropped 47% in 2014. The week of June 27, 2014, saw the biggest drop in price, nearly 50%, from $34.20 to $16.92. NRF's dividend yield was 11.2%.
Highest-Paid CEOs No. 8: Steve Mollenkopf
In 2014, Mollenkopf earned $2.7 million in cash compensation and $58 million in stock and options. According to an article published by Bloomberg on March 6, 2015, the CEO had a rough first year heading up Qualcomm, which he took over on March 24, 2014. Among some of the most pressing issues with which the new boss of the chip-making company dealt included regulatory investigations in China and the United States, lapsed licensees who failed to pay in full, and a partnership dropped by one of its biggest costumers, Samsung Electronics Co. Ltd. (KRX: 005930). Regardless of these troubles, the company's share price rose in 2014 just under $2, from $72.89 to $74.28. QCOM's dividend yield in 2014 was 2.2%.
Highest-Paid CEOs No. 7: Larry Ellison
In 2014, Ellison made $2.3 million in cash compensation and $65 million in stock and options. For over 35 years, Oracle has been the industry leader in database software. According to Oracle's website, when Ellison first developed the software in the late 70's, he suspected no one would buy a brand-new product, so he issued the first release of the database as Oracle Version 2. Oracle's share price went up 15% in 2014, from $37.62 to $44.33. Its dividend yield in 2014 was 1.2%. 
Highest-Paid CEOs No. 6: Greg Maffei
In 2014, Maffei earned $8.5 million in cash compensation and $65.3 million in stock and options. A year ago, cable affiliate Charter Communications Inc. (Nasdaq: CHTR), in which Maffei had a 25% stake, was slated to merge with Time Warner Inc. (NYSE: TWX). This didn't happen due to Maffei's hostile stance on TWC's operating team, claiming that Liberty's was much better. The word mincing cost Liberty the merger; Comcast Corp. (Nasdaq: CMCSA) instead swooped in to make the deal. LMCA realized a whopping 66% loss in share price in 2014, falling from $145.33 at the start of the year to $34.83. QVCA's price rose less than 1%, from $28.92 to $29.12. Neither company offers dividends.
Highest-Paid CEOs No. 5: Nick Woodman
In 2014, Woodman made $2.7 million in cash compensation and $74.7 million in stock and options. GoPro started trading on July 15, 2014, at $41.63 and ended the year at $63.22 - a 34% increase. On May 14, 2015, Bloomberg reported that Woodman followed through with a very expensive promise and gave $229 million back to his company by selling 4.7 million shares. While Woodman was the fifth-highest-paid CEO in 2014, he is currently number one as of July 15, 2015.
Highest-Paid CEOs No. 4: Satya Nadella
Last year, Nadella made $4.5 million in cash compensation and $79.8 million in stock and options. According to a July 14, 2015, post on ZDNet, Nadella outlined his plans for continuing to compete in the phone/mobile market as well as his expectations for the HoloLens. The Microsoft CEO said he envisioned a phone that had all the capabilities of a desktop computer in the near future. Nadella was appointed CEO of Microsoft on Feb. 4, 2014. In 2014, MSFT's share price saw an increase of 23%, from $26.91 to $47.66. Its dividend yield was 2.4%
Highest-Paid CEOs No. 3: Mario Gabelli
In 2014, CEO Gabelli made $88.5 million in cash compensation plus a 4% change in total pay (from the year prior). Gamco provides investment advisory services to mutual funds, institutional and private wealth management investors, and investment partnerships. Over the past five years, Gamco's share price has gone up 56%. However, in 2014, the price rose only 4%, from $82.95 to $87.16, without paying a dividend.
Highest-Paid CEOs No. 2: Michael Fries
In 2014, Fries received $16 million in cash compensation and $95.89 million in stock and options. Fries has been the CEO of Liberty Global, which is a provider of video, broadband Internet, and fixed-line telephone and mobile services, since June 2005. Liberty shares increased 11% in 2014, from $45.25 to $50.90. The company's biggest competition is Netflix Inc. (Nasdaq: NFLX), which has the market cornered on TV bundles and video-on-demand packages. According to BroadbandTVNews, however, Fries told attendees at a tradeshow on June 9, 2015, that he's grateful for Netflix for raising the bar. Liberty's share price rose 11% in 2014, from $45.25 to $50.90. The company does not pay a dividend.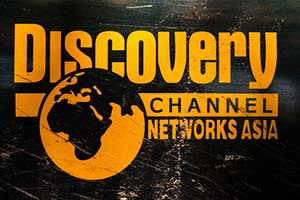 Highest-Paid CEOs No. 1: David M. Zaslav
In 2014, Zaslav received $11 million in cash compensation and $145 million in stock and options. According to a June 1, 2015, CNN Money report, "Since [Zaslav] took over as CEO in 2007, the company's stock has increased more than 300%. And Zaslav managed to improve his compensation by way of a new contract he signed last year. The contract, which runs until 2019, included a base salary of $3 million and more than $6 million in bonuses. The rest of Zaslav's hefty package is in the form of stock and options." Despite his 2014 status of highest-paid CEO in the United States, Discovery's share price dropped almost 40%, starting the year at $88.58 on Jan. 3, 2014, and ending at $34.87 on Dec. 26. Between Aug. 1, 2014, and Aug. 8, 2014, DISCA's share price dropped 51%. According to GDP Insider, shares fell with the news report that insider David Leavy had sold 7,860 shares of the company.
Find us on Twitter: @moneymorning
Grrrrrrrrridiots! The "Gridiots" in Europe recently tortured a world too fearful (or stupid) to just ignore their idiocy. The dysfunctional and bankrupt Hellenic State will continue to be funded for a couple of more years - after which they'll have to go through this moronic exercise all over again. Here's how the "Idiot Contagion" is going to continue to spread...
Related Articles: