A surprising Intel Q2 earnings beat sent Intel Corp. (Nasdaq: INTC) stock up as much as 8% in after-hours trading yesterday (Wednesday).
But a closer look showed that the Santa Clara, Calif.-based company's bottom line of $0.55 per share versus a forecast for $0.50 a share was actually the result of an abnormally low tax rate.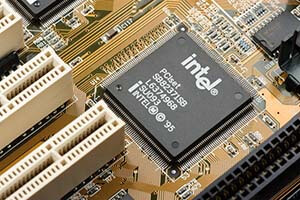 Intel stock opened today (Thursday) at $30.46, up just 2.59% from Wednesday's close of $29.69. And INTC stock quickly slid from there, going flat within the first 90 minutes of trading.
The effective tax rate for the INTC Q2 earnings was just 9.3%, far below the usual range of 23% to 28%. For example, the Intel tax rate in Q1 was 25.5%. The rate in Q2 of 2014 was even higher at 28.7%.
Intel CFO Stacy Smith attributed the low tax rate to a "one-time refund claim and our decision to indefinitely reinvest certain prior years' non-U.S. earnings."
But the tax rate quirk was not highlighted in the Intel Q2 earnings press release, nor was it brought up during the conference call.
Applying the more typical Intel Q2 2014 tax rate would have dropped the earnings per share to $0.43 — a big earnings miss. And sure enough, operating income fell dramatically from $3.8 billion to $2.9 billion.
The Intel Q2 earnings beat on revenue is unaffected by the tax quirk, however. Revenue for Q2 was $13.2 billion, which beat the forecast for sales of $13.04 billion.
Apparently company executives didn't want this black spot on the Intel Q2 earnings to obscure the real progress the company has made in its transition away from the declining PC business.
The divisions focused on three growth areas – data centers, the Internet of Things, and memory chips – accounted for 40% of revenue and 70% of profits. Just a few quarters ago, the PC business represented more than half of Intel's profits.
Follow me on Twitter @DavidGZeiler.