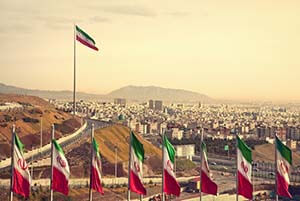 The Iran nuclear deal will be discussed in Congress over the next 60 days, subject to the same political back-and-forth it always has been.
"Iran has been so politicized here in the United States," Scott Ritter, former Marine intelligence officer, former United Nations weapons inspector, and author of "Target Iran," told Money Morning. "It's impossible to have a hearing in front of the United States Senate where someone can speak calmly and rationally about Iran."
But in the grand scheme of Middle East politics, this recent nuclear deal is not as much about containing Iran's nuclear breakout capability as it is about recognizing Iran as a major power-broker in the region.
"This agreement basically cuts a Gordian knot and allows the Obama administration to move forward on the important issues - not the nuclear issues," Ritter said. "Frankly speaking, once it's debated in Congress and the 'haters' have their say, this is going to be such a non-issue. It's never going to come up on the radar again."
So what exactly is in this Iran nuclear deal, and how should markets digest it?
What Is the Iran Nuclear Deal?
The recent deal is, with some modifications, almost identical to a similar Iran nuclear deal in 2004 - the so-called "Tehran Agreement."
But tensions were high then, as the United States was embroiled in a war with Iraq over their supposed nuclear indiscretions and UN violations pertaining to the Nuclear Nonproliferation Treaty.
Just two years before, the Iranian National Council of Resistance held a press conference in Washington identifying facilities in Iran - in Natanz and Arak - for the alleged purpose of building weapons-grade nuclear fuel.
This evidence, which came from a group associated with the Mujahedin-e Khalq - once deemed a terrorist organization by the U.S. State Department - that Ritter said was "of extraordinarily dubious quality," was enough for the United States to impose a sanctions regime on Iran in the following years.
"It was the United States who inserted the issue of possible military dimensions to Iran's nuclear program in 2005 that scuttled the 'Tehran Agreement,'" Ritter said. "It had the United States transfer the Iranian portfolio from the International Atomic Energy Agency to the Security Council, where this regime of economic sanctions could be imposed."
The recent Iranian nuclear deal will remove those sanctions while forcing Iran to relinquish a large stockpile of enriched uranium as well as many of its centrifuges, in addition to severely limiting its enrichment capacity and requiring nuclear inspections by the International Atomic Energy Agency.
"This agreement simply was a way to get the United States and Europe out of this political morass that they built themselves when they allowed the issue to be politicized with possible military dimensions," Ritter said. "They removed it from Vienna [to the IAEA] and took it to New York [to the UN]. It's now gone back to Vienna."
So, what does the Iran nuclear deal mean for investors?
What Will the Iran Nuclear Deal Do for Investors?
Not much - at least in the short term.
There's a lot of discussion about how the Iran nuclear deal will affect oil markets, but the idea that suddenly supply will flood to the markets and push oil prices down is a little too simplistic.
"Iran is in a tough place because the more oil it brings to the market, the less pressure there is on the market and the lower prices are going to be. And Iran needs prices to go up," Ritter said. "I think Iran is betting on the fact that energy supply and demand is cyclical and at some point in time, the global economy is going to reboot. There's going to be high demand again coming out of developing areas of the world - China, India, etc. -  and now they're going to be positioned to effectively exploit that."
Ritter added that "Iran's not just going to be awash in money."
"They've been running fake budgets for a long time - a lot of deficit spending - and they've got a lot of internal issues that they have to deal with," Ritter said. "That's that what this money is going to be used for initially - to get their own house in order."
And that goes without mentioning that Iranian oil shipping and delivery systems are in a shambles. As Money Morning Global Energy Strategist Dr. Kent Moors said, "The Iranian infrastructure is disastrous and it's going to take a while to rebuild."
"Market pundits are creating a tempest in a teapot," Moors said. "Don't look for oil prices to be affected by Iranian production anytime soon."
While oil prices won't see any dramatic fluctuations on this deal, there is a bigger long-term investment story brewing here.
A story that involves the future of the petrodollar.