Greek banks were hanging onto a cliff's edge by their fingernails when Greek and European parliaments and finance ministers debated the future of Greece within Europe.
But less than a week after the referendum that said "όχι!" (No!) to more austerity, Prime Minister Tsipras had already betrayed that vote, proposing considerable cuts in exchange for yet another lifeline. And yet, the euro hardly budged more than a couple of percentage points, and European stocks are actually positive on the year.
That is just where our can-kicking profit opportunity lies…
Tsipras Is Doing What Politicians Do Best
As Greeks prepared to vote in their recent referendum, Prime Minister Tsipras told fans at Syntagma Square in Athens, "I call on you to say a big 'no' to ultimatums, 'no' to blackmail. Turn your back on those who would terrorize you."
The public backed him, voting 61% "No."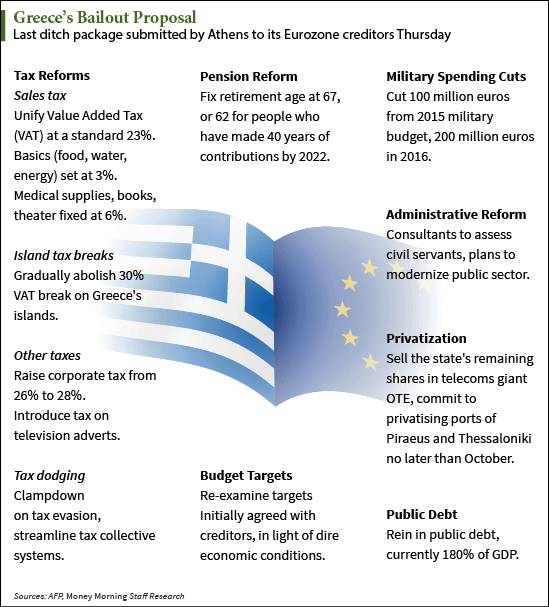 Finally, they were done with all that "austerity" being imposed by the rest of Europe.
And yet that referendum was futile. You see, Greeks voted "No" on a bailout offer that European creditors had already withdrawn.
The people thought they were giving Tsipras a mandate to get a "better deal."
But just four days later, Tsipras' government went back to ask its creditors for nearly the exact same deal, reneging not only on the referendum outcome, but on most of the promises his party had made to win the January election.
At left you can see what that initial proposal looked like…
Trading Independence for Time
After negotiating for 17 hours, and well past the initial Sunday deadline, a deal was finally reached to avoid a "Grexit"… for now.
Tsipras caved on nearly all his referendum-mandated demands: less austerity and a reduction in debt. The latest bailout, worth another €86 billion ($94 billion) over three years, will include still more austerity, and of course even more debt.
And still, just for this deal to proceed, the Greek Parliament needs to pass legislation covering everything from full pension reform to increasing the country's value-added tax (VAT). Even then, Eurozone finance ministers will have to rubberstamp these changes, and their own parliaments will need to provide their own approvals.
Many observing economists believe the deal is so onerous, it will ultimately prove impossible to implement.
In the process, Greece has abandoned the little independence it still had and bought itself more time.
You see, a principal feature of the latest deal is the Greek Privatization Fund (GPF).
Greece will have to place government-owned assets into a structure that needs to generate €50 billion of cash through sales. €25 billion of that will go to repay funds needed to recapitalize Greek banks, €12.5 billion to reduce the debt burden, and €12.5 billion towards internal investments.
The GPF will contain valuable Greek assets including utilities and shipping ports. But national treasures like the Acropolis and popular tourist islands are "hands-off."
Initially, the Germans proposed GPF be located in Luxembourg (and partly run by Germany, of course), but that was abandoned as politically suicidal for Tsipras. Rather, the fund will be set up in Greece, managed by Greek authorities, and overseen by "the relevant European institutions."
This situation sets the stage for the stability we need to make this particular play…
Join the conversation. Click here to jump to comments…
About the Author
Peter Krauth is the Resource Specialist for Money Map Press and has contributed some of the most popular and highly regarded investing articles on Money Morning. Peter is headquartered in resource-rich Canada, but he travels around the world to dig up the very best profit opportunity, whether it's in gold, silver, oil, coal, or even potash.