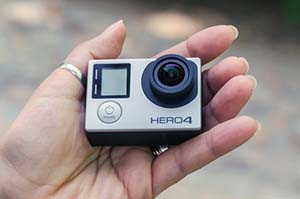 Last month we urged investors not to sour on Ambarella Inc. (Nasdaq: AMBA) stock, the company behind the GoPro Inc. (Nasdaq: GPRO) camera chip.
And if you took that opportunity to buy the dips and not sell the panic, you'd be up big. Since falling 25% in late June, the week that noted short seller firm Citron Research published a vicious short report, AMBA stock has recovered 15.5%. It's up 114% this year.
AMBA is trading around $109 right now. While it still has yet to reclaim that $126.70 mid-June close - back when it was up almost 150% for 2015 - it has recovered a good bit.
And it's poised for long-term gains regardless. This slight 15.5% bump is just the beginning.
"Ambarella still faces a lot of growth in the years ahead," Money Morning Defense & Tech Specialist and long-term AMBA stock bull Michael A. Robinson said. "After this fairly hefty 'haircut,' the stock should resume its upward trajectory."
2015 Top Stocks to Invest In
Topping our best-performing stocks list is Prothena Corp. Plc. (Nasdaq: PRTA), which is up 181.9%. It is close to tripling for 2015.
Robinson looked at PRTA stock on Oct. 23, 2014. However, PRTA stock is a volatile biotech, so he encouraged investors to look at the Guggenheim Spin-Off ETF (NYSE Arca: CSD). This ETF allows investors to cash in on corporate spin-offs and "allows you to tap into the early-stage biotech boom without taking on all the risks of investing in pharmaceutical companies without products on the shelves yet."
As Robinson pointed out, "Prothena specializes in making antibodies that target improperly folded proteins. Its pipeline also includes discovery-stage programs that ultimately may offer treatments for Alzheimer's disease and type 2 diabetes."
Prothena was spun off of Elan Corp. Ltd. in December 2012.
Then there's Novavax Inc. (Nasdaq: NVAX), up 103.9% in 2015.
This biotech specializes in vaccines. Money Morning Small-Cap Specialist Sid Riggs recommended the stock in November 2013. Around this time, Novavax was making strides in a vaccine for avian flu. We highlighted Novavax throughout 2014.
In March 2011, the company signed a $179 million contract with HHS Biomedical Advanced Research and Development Authority (BARDA) "to develop new technology to produce vaccines using insect cells to express influenza proteins and create virus-like particles that stimulate a strong immune response in humans."
"The way I see things, Novavax represents a paradigm shift in the way vaccines are currently produced," Riggs said in November 2013. "The Novavax method implements a disposable, single-use manufacturing system - eliminating the need to clean and sterilize equipment between batches. That means an antivirus production facility can be built at a fraction of the cost traditional methods require."
To see where these stocks to buy rank, as well as a few other top performers, check out the chart below: