Income inequality in many countries around the world, including the United States, has reached record highs. This is according to a new report from the Organisation for Economic Co-operation and Development (OECD).
The report analyzed how much the top 10% of each country earns compared to the bottom 10%. Across all OECD nations, the average was 9.6 times. That's up from about 7.0 in the 1980s and 9.0 in the 2000s.
But in the top 10 countries, those numbers were much larger. Mexico has the world's largest income inequality problem, with the top 10% earning 30.5 times more than the bottom 10%. The United States is third with 18.8.
Here are the 10 countries where income inequality is the worst: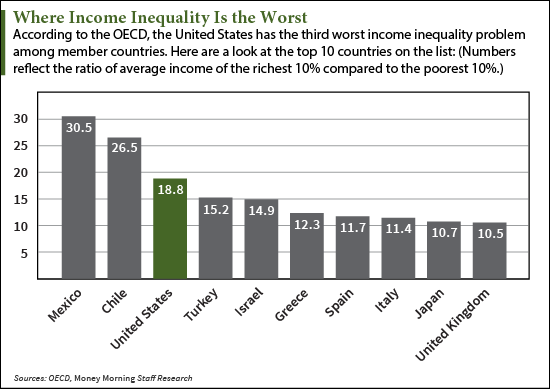 Income Inequality Reaches a "Tipping Point"
"We have reached a tipping point. Inequality in OECD countries is at its highest since records began," OECD Secretary-General Angel Gurría said in a report from May. "The evidence shows that high inequality is bad for growth. The case for policy action is as much economic as social. By not addressing inequality, governments are cutting into the social fabric of their countries and hurting their long-term economic growth."
The study also found that in the 18 OECD countries with enough data, the bottom 40% of earners owned just 3% of total household wealth. The top 10% controlled nearly 50%, while the top 1% alone controlled about 18%.
The OECD was founded in 1960 and currently has 34 member nations. They include many of the world's most advanced countries, but also some emerging countries like Mexico, Chile, and Turkey.
Follow us on Twitter @KyleAndersonMM and @moneymorning.
Like us on Facebook: Money Morning.
Editor's Note: As a special service to Money Morning readers, we're providing you with the Roadmap to Growing Rich from the Spin-Off Boom. In it, you'll find three additional spin-offs that could double your money this year. Click here to learn how to download your copy.