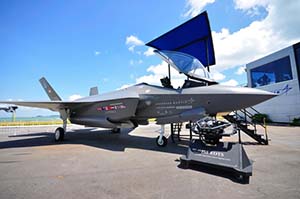 From an investment perspective, Lockheed Martin Corp. (NYSE: LMT) stock is a long-term buy-and-hold, largely because of the F-35 program.
The F-35, the next generation of fighter crafts to replace the current fleet, is a 56-year program. It will cost a total of $400 billion for the United States to procure 2,400 of these multi-role combat jets, and another trillion to service the fleet once they're rolled out. The $1.4 trillion price tag is daunting, but over 56 years that averages out to about $25 billion a year spread across the slew of contractors building this jet and its components - with the lion's share going to Lockheed.
Foreign governments will order another 600.
A lot of fair criticisms are leveled at the F-35. There have been cost overruns, software problems, and delays. But none of that is new to the federal contracting game and should come as no surprise for a jet that seeks to do everything for everyone.
"You're trying to use this kind of one-shoe-fits-all mentality," Money Morning Executive Editor Bill Patalon said. "You're trying to make it the main aircraft for multiple services - the Air Force, the Navy, the Marines - each of these folks has different requirements - dramatically different."
Here's why this discussion over the F-35 likely won't make a dent in the LMT stock price long term...
Is the F-35 Worth It?
The LMT stock price has been rather sensitive to any news items related to the F-35 this year.
Just look at the beginning of 2015.