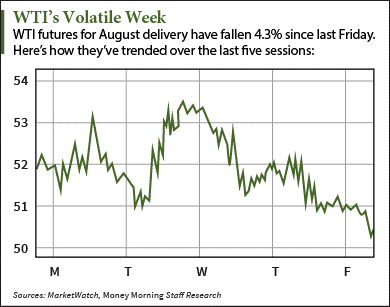 Why the WTI crude oil price is down today, July 17, 2015: The WTI crude oil price today (Friday) is on track to close under $50 for the first time in four months amid bearish sentiment from inventory data and the Iran nuclear deal.
At 11:45 a.m., the WTI crude oil price was down 1.2% to $50.29 a barrel. Yesterday, the U.S. benchmark closed at $50.91, its lowest settlement since March 19. It has tumbled 15.4% so far in July.
The Brent crude oil price was performing slightly better this morning. The international benchmark dropped just 0.33% to $56.72 a barrel. It's down 11.6% this month.
Here's a breakdown of why the WTI crude oil price is down today…
Two Reasons Why the WTI Crude Oil Price Is Down Today
The first reason why the WTI crude oil price is down today is supply numbers.
Energy data provider Genscape reported yesterday that oil supplies in Cushing, Okla. – the central storage hub and delivery point for U.S. oil contracts – increased by nearly 1 million barrels between July 10 and July 14. Those numbers seem to be weighing more heavily on investors' minds than the U.S. Energy Information Administration's (EIA) numbers. The EIA reported a 4.3 million barrel drop in crude supplies last week.
Oil prices are also falling as investors expect increased exports from Iran after a nuclear deal was reached on Tuesday. According to the terms of the agreement, Iran will be allowed to start ramping up oil exports in exchange for the country scaling back its nuclear weapons program.
Investors fear the country's new exports will flood the already oversupplied market with more oil, thus lowering prices even further.
But Money Morning Global Energy Strategist Dr. Kent Moors says the Iran nuclear deal won't drive oil prices down because of one huge reason…