A gold "flash crash" took the yellow metal down 4.2%, or about $50, in a matter of seconds late Sunday night to its lowest level since March 2010.
Here are the details...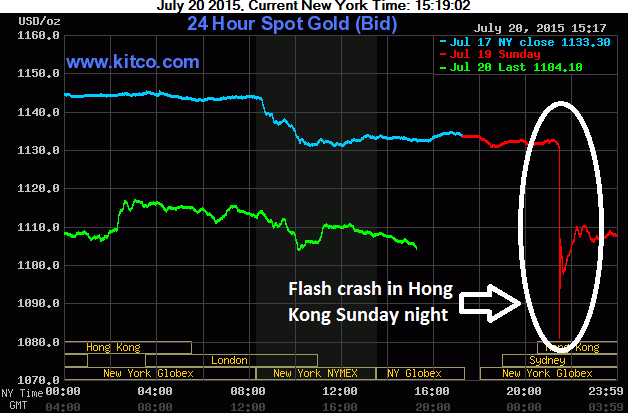 Just before 9:30 p.m. ET -- or just as China's market opened for trading -- someone dumped five tonnes ($2.7 billion worth) of gold on the Chinese market. That's the equivalent of one-fifth of a whole day's trade in a normal session. Gold promptly fell to a five-year low of $1,088.05 an ounce.
Not only did gold prices crash, but silver, platinum, and other precious metals came tumbling down as well.
Exactly who is "someone?"
Kitco News suggests "a major player was dumping gold."
According to ANZ Bank analyst Victor Thianpiriya (in a note at the close of Asia's trading session), the "nature, size, and timing of the heavy selling" suggests someone "was taking advantage of low liquidity or some sort of forced selling had taken place."
"In Shanghai, close to 5 tonnes of gold was sold on the SGE in a two-minute window just prior to 9:30 am, in a market where the normal volume traded is 25 tonnes in an entire day. The August 15 Comex gold contract also saw 7,600 contracts traded in the same two-minute window, though intraday trading data showed an unusual spike in Comex volume just before Shanghai, suggesting Comex gold lead the selloff, but SGE clearly exacerbated it."
Ross Norman, chief executive officer of gold broker Sharps Pixley, told London Evening Standard he expects a large fund or investor looking to bet against the gold price was likely to be behind the fall, such as one hit by losses on China's recent stock market collapse. "Clearly it was somebody who was extremely keen to trade the market short." That's because selling off the metal in that amount would drive the price down, then it could be bought back as a profit.
Whoever the seller was, this gold flash crash comes on the heels two pertinent gold "landmark events."
First, the gold price per ounce settled at its lowest level since April 2010 on Friday.
And second, also on Friday, China released an update on its gold reserves for the first time in six years. According to official numbers, China gold reserves climbed 57% to 53.32 million troy ounces since April 2009.
Gold Flash Crash Aftermath
[epom key="ddec3ef33420ef7c9964a4695c349764" redirect="" sourceid="" imported="false"]
The gold price today (Monday) initially rebounded after the plunge, gaining roughly $20 from the intraday low of $1,086 an ounce.
But the gain wouldn't last.
Spot gold ultimately finished down $29.10 at $1,104.20 an ounce. Gold futures fell for an eighth-straight session. August gold lost $25.10 (2.2%) to settle at $1,106.80 an ounce on Comex in New York.
The gold flash crash took a toll on gold stocks.
For example, Goldcorp Inc. (USA) (NYSE: GG), the world's biggest gold miner by market cap, fell to a decade low of $12.99 per share. Shares of Barrick Gold Corp. (USA) (NYSE: ABX), the world's biggest gold producer, tumbled nearly 16%, a price not seen since 1989. Eldorado Gold Corp. (USA) (NYSE: EGO) also fell to a 52-week low of $3.21 a share.
Tweet the author @TaraKateClarke, or leave a comment on Money Morning's Facebook page.
What Investors Must Know This Week
Related Articles: