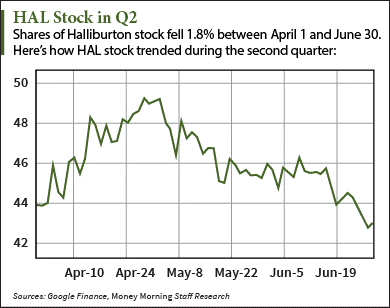 The Halliburton Q2 earnings report was released before markets opened this morning (Monday). The world's second-largest oilfield services company saw a 93% earnings loss as the oil price plunge continues to eat into the sector's profits.
Halliburton Co. (NYSE: HAL) posted net earnings of $54 million, or $0.06 per share. That's down dramatically from $774 million, or $0.91 a share, in Q2 2014.
On an adjusted basis, earnings per share (EPS) were $0.44. That beat the FactSet consensus of $0.29 per share.
Halliburton's revenue also saw a sharp decline. The company posted $5.9 billion, down 27.2% from $8.1 billion year over year but 1.7% above analysts' $5.8 billion estimate.
Halliburton's earnings declined as oil prices struggle to maintain upward momentum this year. After soaring 13.1% in April, the WTI oil price erased more than half those gains by falling 6.7% over the course of May and June.
Beating earnings estimates was enough to lift HAL stock today. After the Halliburton Q2 earnings were released, the Halliburton stock price surged 2.5% during pre-market hours. Shares opened up at $41.37 this morning.
But the past few months have been rough for HAL stock. The firm lost 1.8% in the second quarter and 5.1% in June alone.
Still, Halliburton is having a much better year than most of the supermajors. HAL stock is up 1.7% in 2015. Meanwhile, Exxon Mobil Corp. (NYSE: XOM), Royal Dutch Shell Plc. (NYSE ADR: RDS.A), and Total SA (NYSE ADR: TOT) are down 10.6%, 14.8%, and 3.5% respectively this year.
It's clear HAL stock is more profitable than most of the Big Oil companies right now.
But does that make Halliburton stock a healthy long-term buy?
Should I Buy HAL Stock After the Halliburton Q2 Earnings Report?
As the second-largest oilfield services (OFS) firm in the world, Halliburton is poised to soar this year as M&A activity transforms the industry.
The market is already being rocked by mergers and acquisitions...
On April 8, Shell announced its purchase of BG Group Plc. (OTCMKTS ADR: BRGYY) for $70 billion, marking the largest energy merger in over a decade. In the master limited partnership (MLP) sector, Energy Transfer Partners LP (NYSE: ETP) snatched up Regency Energy Partners LP (NYSE: RGP) for $18 billion on April 30. The deal made ETP the second-largest MLP on the market.
More small oil stocks are being purchased by much larger ones. The process is creating a new group of heavyweight firms that will dominate the market.
"The most likely targets of M&A activity will be energy companies with attractive land leases, pipelines, or other assets, high levels of debt, and declining cash flows," Money Morning Global Energy Strategist Dr. Kent Moors noted.
Now, Halliburton is about to make one of the largest purchases in the history of the OFS sector...
Last November, the company announced its acquisition of Baker Hughes Inc. (NYSE: BHI) - the third-largest OFS company in the world - for $34.6 billion. The deal is expected to close later this year.
After the merger goes into effect, the new company will save costs and offer competitive bids against the leading OFS company Schlumberger Ltd. (NYSE: SLB).
Yahoo! Finance gives the HAL stock price a one-year target estimate of $53.20 a share. That's 33% higher than its July 17 closing price of $39.99.
The Bottom Line: Although seeing a sharp decline from the year-ago period, the Halliburton Q2 earnings report this morning beat analyst projections and sent the HAL stock price higher. The top OFS provider is poised to move higher over the long term as it finalizes its Baker Hughes acquisition and M&A activity transforms the oil sector.
Follow us on Twitter at @AlexMcGuire92 and @moneymorning.
More on Energy Stocks: Master limited partnerships (MLPs) have seen immense growth over the last decade. But it's important to understand how they work. Here's how you can profit from the MLP sector, which has generated 249% in total returns since 2005...