The Microsoft dividend will rise again in September if the company follows a well-established pattern.
For the past nine years, Microsoft Corp. (Nasdaq: MSFT) has announced a dividend hike in September to be applied to the next quarter's payout.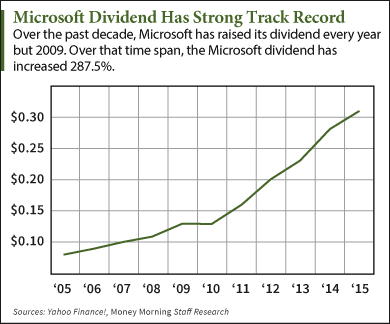 The annual increases have grown the quarterly MSFT dividend from $0.08 a share to the current $0.31. The current yield is 2.65%. The next regularly scheduled payout is Sept. 10.
The Redmond, Wash.-based company has increased its dividend payout every year in that span except for 2009, when the Microsoft dividend remained at $0.13.
Stocks that pay a dividend – and raise it regularly, as Microsoft has – are favorites of income investors. And for good reason.
A Morgan Stanley (NYSE: MS) study in 2013 found that 42% of the gains in the Standard & Poor's 500 Index since 1930 had come from dividends.
But given that a Microsoft dividend hike is a near-certainty, the current question for investors in Microsoft stock is how big the hike will be.
Look for a Microsoft Dividend Hike Above 10%
Over the past decade, the Microsoft dividend increases have ranged from a low of 10% in 2007 to a high of 25% in 2011 (if you ignore 2009).
The minimum hike would be $0.03 a share, which would bring the Microsoft dividend to $0.34, a 9.68% increase. But it's more likely Microsoft will resist dipping below the 10% threshold and opt for a $0.04 hike, representing an increase of 12.9%.
Microsoft could also opt to raise its dividend by $0.05, a 16.1% increase. The last time the Microsoft dividend increased by $0.05 was in 2013, so it's not unprecedented. But given some headwinds the company is experiencing this year, look for MSFT to stick with the $0.04 increase.
Whether Microsoft can maintain these dividend increases depends on how well it can grow out of its historic dependence on its flagship Windows and Office products.
We'll know more about that when we get the Microsoft Q4 earnings tomorrow (Tuesday) after the market close…
What to Expect from the Microsoft Q4 Earnings
Here's what analysts are looking for from the Microsoft fiscal Q4 earnings:
The numbers: Wall Street is looking for Microsoft earnings per share at $0.56. That estimate is down from $0.62 three months ago, and it would be roughly flat from last year's $0.55. The revenue forecast is $22.05 billion, which would be a 5.7% decrease from the same quarter a year ago.
The last quarter: Microsoft posted earnings of $0.61 in its fiscal Q3, easily beating estimates for $0.51. Still, it was a drop of more than 10% from the same quarter a year earlier. The company also beat on revenue, with sales of $21.73 billion eclipsing the $21.06 billion Wall Street estimate and rising 6% year over year.
The stock: MSFT stock is flat on the year, but plunged 13% in January before recovering just as rapidly in April – both moves precipitated by earnings reports. Over the past two years, however, Microsoft stock is up 46%. A second consecutive beat could push MSFT higher. MSFT is trading at $46.85 today (Monday) and has a one-year price target of $50.13.
Follow me on Twitter @DavidGZeiler.
Should I Buy Microsoft Stock? Wall Street is very conflicted about Microsoft these days, which is a big reason MSFT stock has remained relatively flat lately. But they're missing the big picture. Here's why Microsoft stock is a tremendous bargain right now…