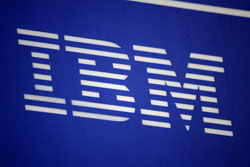 International Business Machines Corp. (NYSE: IBM) stock has struggled over the past two years for sure, despite some promising upside for the first half of 2015.
IBM stock is up 7.7% this year, but it's also down 11% since last year's high.
That doesn't mean IBM has been lazily sitting on its hands, wedded to an antiquated business model, as has been the standard criticism for this century-old technology company every time it runs into trouble.
For all the hurdles IBM stock has had to clear over the course of its history, the current transformation may be the most significant.
IBM is in the process of shedding its legacy technology veneer - the servers, the chips, etc. - and focusing its efforts on growing in the cloud, analytics, mobile, social, and security fields.
This transformation has not come easy. And it's taken a big bite out of the IBM stock price. It's fallen 17% since reaching its historic highs in 2013.
"Whenever you're going through a market transition, the larger firms take most of the pain," tech industry analyst Rob Enderle of The Enderle Group told Money Morning. "The smaller firms, we forget, a lot of them fail along the way and we remember the ones that survive. With the big firms, it has to survive; it doesn't have the option of failing and reemerging as another company. It has to morph."
But luckily, over the last year, IBM has used its enterprise acumen to attract an impressive list of partners that will prove invaluable in helping the company weather this painful transition.
And that will reflect well in the long term for IBM stock.
Here's a look at these four key partnerships...
4 Partnerships That Can Fuel an IBM Stock Rebound
IBM Partnerships No. 1: Apple - IBM
The Apple Inc. (Nadaq: AAPL) partnership had been active for months by the time it was announced in July 2014, though it was the first in this wave of partnerships that have been grabbing headlines.
And it made a splash. Suddenly, the two bitter rivals of the 1980s were on the same side.
The crux of this partnership is to marry Apple's consumer chops with IBM's enterprise reputation. IBM agreed to develop 100 enterprise applications for Apple's iOS devices.
There have been criticisms as to just how extensive this relationship is and whether Apple even takes it seriously. To some of IBM's detractors, it could sound like a struggling tech giant hitching its wagon to the most valuable company - tech or otherwise - then touting it endlessly for the positive PR.
These criticisms are valid in that IBM is no stranger to using shallow PR gambits to boost the IBM stock price. They have a habit of citing how some billions of dollars are going to fund some R&D or new innovation while remaining short on the details.
But what those critics miss on this particular partnership is the direction IBM is taking in trying to build out its growth strategy - primarily in its promising analytics business, which an IBM vice president told Money Morning is valued at $17 billion.
Enterprise-focused IBM gets to establish its presence in the consumer device world, and Apple, as a consumer company, is leveraging IBM's enterprise expertise to expand and diversify its app offerings on iOS devices.
The applications will revolve around helping businesses develop solutions using IBM's extensive Watson Analytics capabilities. Think of an airline trying to monitor its flights - whether that's seating or technical issues. Or think of a distribution center that wants to manage inventory and productivity. These are examples of what these applications will be built around.
All of this will be brought to the iOS platform when this partnership's goals are fully realized. And whether it's delayed - or Apple doesn't take it seriously - doesn't erase the fact that in a somewhat crowded enterprise tech market, IBM got an endorsement as the gold standard from Apple, the gold standard for consumer devices.
Here's a look at three other important IBM partnerships that will help drive the future IBM stock price...
IBM Partnerships No. 2: Twitter - IBM
The partnership with Twitter Inc. (NYSE: TWTR), announced in October 2014, will help IBM build on its Big Data initiatives.
It was a no-brainer for IBM. IBM already has perhaps the best Big Data platform with Watson Analytics, known for its predictive capabilities and growing cognitive applications. Twitter will allow IBM to build out its Big Data capabilities by providing access to a limitless amount of social media data.
With this partnership, a business that wants to gauge customer sentiment or understand long-term consumer trends will have the ability to merge Twitter's wealth of raw social media data with IBM's more sophisticated analytics platforms to develop enterprise solutions.
This partnership was the second of the big four to be announced, following the blockbuster Apple deal.
This next one came just months later...
IBM Partnerships No. 3: The Weather Company - IBM
In March 2015, IBM announced a partnership with the Weather Company, wherein the Weather Company would migrate its business-to-business (B2B) unit from a private data center to IBM's SoftLayer platform.
Weather is an extremely important consideration for businesses, and having the ability to integrate the Weather Channel's forecasting system - which is built around 2.2 billion unique forecast points worldwide, according to the IBM press release - with IBM's predictive and analytical tools will help businesses develop enterprise solutions based on weather insights.
It will not only help insurance companies and utilities looking for weather insights to make business decisions, but also retail and logistics companies.
IBM Partnerships No. 4: Box - IBM
[epom key="ddec3ef33420ef7c9964a4695c349764" redirect="" sourceid="" imported="false"]
The most recently announced partnership of IBM, announced last month, was one with Box Inc. (NYSE: BOX).
Box differs from the other three partnerships because unlike Apple, Twitter, and the Weather Company, Box operates in much the same space as IBM - with Fortune 500 clientele.
The IBM-Box partnership isn't as much about bringing together consumer expertise with enterprise expertise as it is about building new channels and market presence.
Box, a content-sharing cloud storage company, will allow IBM to leverage spreadsheets and data to expand IBM's predictive and analytics tools. Box will be using IBM's global footprint and security capabilities to grow into international markets.
This Box partnership rounds out an impressive list of new partnerships, each achieving different goals for IBM in the enterprise space, and with each helping further IBM's transition from a legacy tech hardware company to the premier B2B player.
The Bottom Line:
IBM has identified the right growth areas. They've forged partnerships with the right corporate players. While this isn't immediately going to boost the IBM stock price or make IBM stock a "Buy" on its own - that will take a much more measured assessment of how far along IBM
is in this transformation
- it's a good signal that IBM is active and no longer letting the enterprise tech market pass it by as it has in the past.
Jim Bach is an Associate Editor at Money Morning. You can follow him on Twitter @JimBach22.
Want to Make a Killing in Tech? Make sure you know these four tech industry terms that will make you money...