PayPal Holdings Inc. (Nasdaq: PYPL) stock debuted on the Nasdaq today following a spin-off deal from eBay Inc. (Nasdaq: EBAY).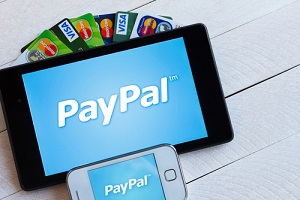 The PayPal stock price opened at $41.46 and quickly jumped to $42.55 just after 9:30 a.m. today.
Through the PayPal spin-off, eBay shareholders of record as of July 8 received one share of PYPL stock for every share of EBAY they owned.
Based on eBay's share total as of June 1, roughly 1.22 billion shares of PayPal stock have been distributed.
EBay initially purchased PayPal for $1.5 billion back in 2002. This is the first time that PayPal stock has been available to investors since. Here's everything you need to know about PYPL stock now...
A Closer Look at PayPal Stock (Nasdaq: PYPL)
PayPal is one of the strongest companies in the digital payments industry. Other major tech firms like Apple Inc. (Nasdaq: AAPL) and Google Inc. (Nasdaq: GOOG, GOOGL) are just getting started.
That makes a PayPal stock price near $40 particularly attractive.
At the end of 2014, PayPal had more than 165 million active accounts. It processed more than $235 billion in payments that same year. In the most recent quarter, its revenue touched $2.11 billion. That was the first time it posted more revenue than eBay in a quarter, as eBay had revenue of $2.07 billion.
PayPal officials have said the company will now focus solely on digital payments, allowing eBay to focus on e-commerce.
Potential investors are also excited about the firm's recent purchase of Xoom Corp. (Nasdaq: XOOM) for $890 million in cash.
Xoom focuses on digital money transfer, specifically sending money out of the United States. It will help PayPal expand into countries like China, India, Brazil, and Mexico. According to Money Morning Defense & Tech Specialist Michael A. Robinson, the partnership has the potential to be a "killer combination."
Money Morning Executive Editor Bill Patalon has been following the PayPal stock spin-off closely since it was first announced in September 2014.
"The potential for cross-selling products - and for creating new ones - clearly makes it possible for the PayPal/Xoom entrant to pull off a hefty market-share grab," Patalon said.
Patalon knows the profit opportunities that can come along with stock spin-offs.
"Spin-offs aren't 'free money,' but in the stock market, they're about as close as you're going to get," he said.
He calls these transactions "Corporate America's version of the Declaration of Independence," because one company is freeing itself from the parent company. But the separation can actually benefit both stocks.
"Freed from the need to 'conform' to a common corporate mission, the two newly independent firms are able to pursue independent, profit-maximizing growth strategies that also deliver peak shareholder value," Patalon said.
In fact, a Penn State University study found that spin-off stocks post an average gain of 76% in their first three years.
While spin-off stocks have an impressive track record, it's not safe to assume the PayPal stock price will head straight up. There's an important caveat to investing in spin-off stocks that you can't miss...
What to Expect from the PayPal Stock Price Now