One share of Berkshire Hathaway Inc. (NYSE: BRK.A) stock is so expensive it could buy a Tesla Motors Inc. (Nasdaq: TSLA) Model S, plus a Tiffany & Co. (NYSE: TIF) platinum diamond ring, with plenty of change to spare.
Shares of BRK.A opened July 17 at $214,800. That's not far from their all-time intraday high of $229,374 from Dec. 8, 2014.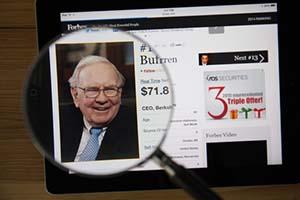 Omaha-based Berkshire is by far the highest-priced stock on U.S. markets. According to FinViz, the second most expensive stock on U.S. exchanges is Seaboard Corp. (NYSEMKT: SEB) at just $3,630.
But Berkshire's market cap isn't overwhelmingly large at $348.11 billion. Apple Inc. (Nasdaq: AAPL) holds that crown with a $723.11 billion market cap.
When BRK.A shares eclipsed $200,000 for the first time in December 2014, talks swirled about the company splitting its stock.
Chief Executive Officer Warren Buffett, however, has long resisted any urging to split the shares.
In a stock split, a company increases the number of outstanding shares while lowering the price accordingly. Splits don't change anything fundamentally about a company's valuation. Yet a split makes shares more affordable, and thus more attractive, to retail investors.
Buffett has for many years argued that lower-priced shares would only stoke short-term, speculative trading in his company's stock.
"I don't want anybody buying Berkshire thinking that they can make a lot of money fast," Buffett told Alice Schroeder in a biography about the iconic investor titled "The Snowball." "They're not going to do it, in the first place. And some of them will blame themselves, and some of them will blame me. They'll all be disappointed. I don't want disappointed people. The idea of giving people crazy expectations has terrified me from the moment I first started selling stocks."
But that doesn't mean you necessarily have to shell out $200,000 for a piece of Berkshire Hathaway...
A Cheaper Alternative to BRK.A Shares