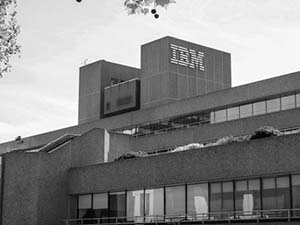 Just after the bell yesterday (Monday), International Business Machines Corp. (NYSE: IBM) earnings were released.
And the results were dismal.
So dismal, in fact, that the IBM stock price has fallen 5% in morning trading, erasing all the gains it has made in the last two weeks.
It wasn't just that IBM earnings revealed a 13th straight quarter of declining sales. The savvier IBM observers are aware that the IBM high-value strategy revolves around shedding low-margin segments - low-end servers, chips, and customer care, for example - and growing margins.
And it's not even that IBM earnings showed a slight miss in revenue. IBM posted sales of $20.8 billion, close to Wall Street expectations of $20.9 billion. In fact, IBM beat earnings-per-share expectations of $3.78 by $0.06.
What was so disappointing about IBM earnings was that a strong dollar and weak sales in the BRICS countries absolutely decimated IBM software sales.
When IBM Chief Financial Officer Martin Schroeter opened up yesterday's earnings call for questions, Bernstein Research's Toni Sacconaghi pointed out a troubling fact about software sales, which he noted dropped 3% for the quarter.
"I think other than the financial crisis in '09, that's the lowest software growth rate in the last 15 years," Sacconaghi said.
It's no wonder that following IBM earnings, the market punished the IBM stock price...
IBM Earnings Reveal Software Troubles
There's a certain amount of flailing sales IBM investors are willing to stomach. It's been said many times before by Chief Executive Officer Virginia "Ginni" Rometty and in several conversations Money Morning has had with IBM management.
Right now IBM is in transition. It's a painful one, but it's necessary if IBM wants to stay relevant in an enterprise tech landscape that's largely migrating to the cloud.
IBM will likely not post another $100 billion year like it did as recently as 2012. But at the same time, many of IBM's Fortune 100 clients are going to stick with IBM to migrate systems and applications to cloud. And that will be a huge revenue generator.
That's the IBM cloud strategy. Critics will deem IBM's cloud pursuits fruitless as Amazon.com Inc. (Nasdaq: AMZN) and Google Inc. (Nasdaq: GOOG, GOOGL) - two companies who care very little about margins on their cloud ventures - are fighting a price war that's effectively commoditized cloud.
But Amazon and Google are fighting a price war for Infrastructure-as-a-Service (IaaS), the component of cloud that encompasses virtual data centers. Even as IaaS becomes a commodity, and even with IBM offering an IaaS platform with SoftLayer, IaaS is not a part of IBM's long-term cloud strategy.
IBM's high-value cloud strategy is primarily focused on not only helping its already impressive list of Fortune 100 clientele to migrate to cloud, but also on building value in the Platform-as-a-Service (PaaS) cloud market. Through PaaS, IBM is essentially helping app developers build business applications in the cloud.
So while a startup simply looking for a solution will go to Amazon, a big bank looking to create a mobile banking app, for example, will go to IBM. And IBM can help them transform their applications and systems to incorporate new technology.
But there's one problem with IBM stock following IBM earnings...