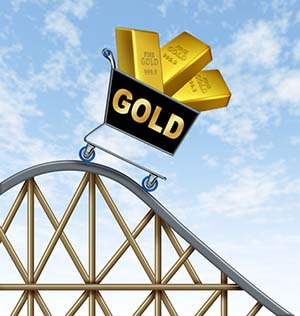 Tuesday morning, August Comex gold in New York was down $2.50 at $1,104.40 an ounce.
Why today's gold price is down is linked to several factors, starting with the aftermath of the gold "flash crash" that occurred late Sunday night…
Around 9:30 p.m. ET – or just as China's market opened for trading – a seller dumped five tonnes ($2.7 billion worth) of gold on the Chinese market. That's the equivalent of one-fifth of a whole day's trade in a normal session. Gold promptly fell 4.2% to a five-year low of $1,085 an ounce in a matter of seconds. In a whiplash-like move, the gold price quickly spiked back above $1,100.
"This kind of sharp drop during early Asian hours is a strong indication that a big fund is selling their holdings of gold," Gnanasekar Thiagarajan, director of Commtrendz Risk Management, told The Wall Street Journal.
Victor Thianpiriya, commodity strategist at ANZ, shared a similar sentiment.
"In our view, today's price action doesn't seem to be driven by fundamentals," Thianpiriya said in a report. "The nature, size, and timing of the heavy selling suggests a market participant was taking advantage of low liquidity or some sort of forced selling had taken place."
On Monday, the yellow metal initially rebounded. Right after the opening bell on Wall Street, gold prices climbed $21.40, or 1.89%, to $1,117 an ounce. But the gain wouldn't last — the metal closed at $1,103.60.
Here are other factors weighing into why today's gold price is down, two days after the flash crash…
Why Today's Gold Price Is Down: China, Greece, and the U.S. Dollar
China: China's central bank reported Friday that its gold reserves total 53 million ounces. While up 57% since 2009 — the last time the People's Bank of China made its reserve tally public — major gold market participants had anticipated a much larger stockpile. Thus, the release from the world's second-largest consumer of gold was a bearish sign for precious metal traders.