The past year has delivered one of the worst crashes in crude oil price history.
Crude oil prices have slumped 47% since July 2014. The oil sector hasn't performed this poorly since the 2008 financial crisis.
But those are just the two most recent crashes for oil prices. The chart below provides a glimpse into the crude oil price history dating all the way back to the Civil War.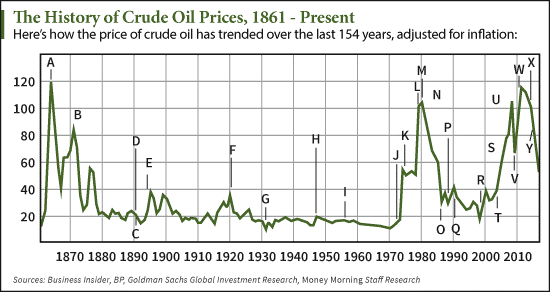 Here's an annotated breakdown of the events behind the significant oil price movements since 1862…
25 Important Events in Crude Oil Price History
Crude Oil Price History Event (A), 1862 – 1865: The American Civil War is in full swing. Crude oil demand skyrockets due to its increasing use for lamps and medicinal purposes. The commodity experiences its first production boom in Titusville, Pa. Oil becomes a cheaper alternative to heavily taxed whale oil, another illuminant with similar qualities.
Crude Oil Price History Event (B), 1865 – 1890: Prices boom and bust over the next 25 years due to fluctuations in U.S. drilling. By 1877, John D. Rockefeller's Standard Oil Company controls more than 95% of all oil refineries in the country.
Crude Oil Price History Event (C), 1890 – 1892: The United States enters its worst recession to date, causing oil prices to plummet. The period is marked by the excessive financing of railroads, which results in a series of bank failures. Unemployment ranges from 17% to 19%.
Crude Oil Price History Event (D), 1891 – 1894: The Titusville oil fields that birthed the U.S. oil industry start to decline. This sets the stage for higher prices in 1895.
Crude Oil Price History Event (E), 1894: An international cholera outbreak draws back oil production throughout Europe, contributing to the 1895 spike.
Crude Oil Price History Event (F), 1920: The widespread adoption of the automobile drastically raises oil consumption before one of the worst events in world history sends prices to record lows…