If Mark Twain were alive today, he'd probably say that there are "lies, damned lies, and inflation statistics."
There just aren't many more important numbers that so many depend on and that are so regularly and maliciously manipulated.
You see, wages, pensions, and Social Security are all dependent in some measure on the Consumer Price Index. It affects the income of some 80 million Americans through contracts or indexation.
Now, we're being told that inflation is at record lows, but we know that's underreported.
What isn't widely known is how vulnerable this particular market, and the wealth of millions of people invested there, is to even modest inflation spikes.
That's right: Inflation that would seem downright tame by 1970s standards could wipe you out.
Unless you have this investment on your side…
These Low Levels of Inflation Are Aberrations
In an historical context, the last seven years have been a major outlying event. Central banks have been on a massive quantitative easing binge with promises of plenty still to come.
Yet deflation, not inflation, still appears the larger concern. Indeed, official inflation in most of the developed world has been elusive. In the United Kingdom, prices recently fell for the first time since the 1960s.
It's gotten so that anyone warning of coming inflation is the proverbial "boy who cried wolf."
But to ignore its risks, and worse, to go unprepared, is likely to be a major mistake.
"To go from say 0.5% to even 2%, percent let alone 3% or 4% would be a massive change," said Pippa Malmgren, founder of the London-based DRPM Group and a former adviser to U.S. President George W. Bush. "It would be a serious event for the public and for markets."
Many economists agree that markets have become highly desensitized to the risks.
Mark Schofield, a Citigroup strategist, said in a client report that just moving to 2% to 3% inflation from the current environment would be "likely to unsettle investors considerably. An inflation surprise is, perhaps, not as remote a risk as might be imagined."
It's easy to see why people would be caught out.
Investors Have Simply Forgotten the History
For the past 30 years official inflation numbers have averaged about 2.5%. An entire generation has known nothing else.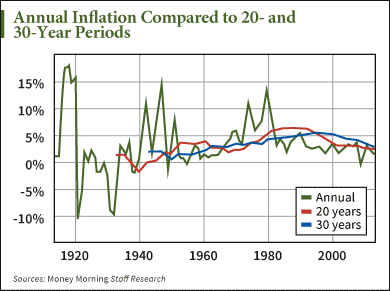 But current consumer price inflation (CPI) numbers are considered by many to be unrealistically low.
Financial planners will typically factor in 3% for long-term inflation. Yet just in the last century, we've experienced numerous periods of high inflation, as well as much higher average inflation.
What's more, bouts of spiking inflation like we saw in the late 1970s can have an outsized and lasting effect, as those much higher prices tend to remain high even if they only rise more slowly afterwards.
Inflation experienced during 20-year periods, which started from the early 1960s until the mid-1970s and ended in the early 1980s until the mid-1990s, averaged above 6%.
That was severe enough to watch the buying power of a $100 bill drop to just $31 over that time span.
Consider, too, that all these numbers are based on "official" CPI figures, and there's plenty of reason to doubt those.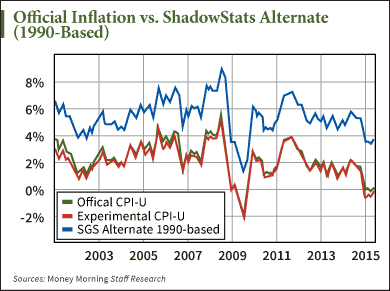 For example, some truly enlightening information published by economist John Williams at ShadowStats.com tracks consumer price inflation, but in parallel calculates it according to the older 1980- and 1990-based methods.
Join the conversation. Click here to jump to comments…
About the Author
Peter Krauth is the Resource Specialist for Money Map Press and has contributed some of the most popular and highly regarded investing articles on Money Morning. Peter is headquartered in resource-rich Canada, but he travels around the world to dig up the very best profit opportunity, whether it's in gold, silver, oil, coal, or even potash.