Less than blockbuster Q3 earnings sent Apple stock down more than 8% in after-hours trading yesterday (Tuesday), lopping about $60 billion from the company's market cap.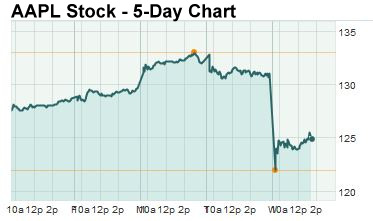 Apple Inc. (Nasdaq: AAPL) stock recovered a bit this morning (Wednesday) and was down about 5% in mid-morning trading. For those panicking over the big market cap loss, note that Apple regained about $23 billion of that within five minutes of the opening bell this morning.
But a closer look at the AAPL Q3 earnings shows the sharply negative reaction wasn't justified. If anything, it shows that Apple has spoiled investors with spectacular earnings beats.
The biggest sticking point was iPhone sales of 47.5 million that missed the forecast for 48.8 million (worse still, the whisper number was 50 million). And some estimates were up in the 52 million to 53 million range.
Investors also weren't too pleased with Apple's guidance, which was lower than they expected. But Apple is famous for lowballing guidance. And the close beat on the Q3 numbers probably made the company particularly cautious regarding Q4 guidance.
So the AAPL stock sell-off is basically investors throwing a tantrum because they only got two scoops of ice cream instead of three.
And now, we have a great Apple stock buying opportunity…
Why the Fall in Apple Stock Is Overdone
Apple's slight beats on revenue ($49.6 billion vs. a forecast for $49.4 billion) and earnings per share ($1.85 vs. $1.81) also need to be put into context. Revenue was up 33% from the same period a year ago, and EPS was up 45%. Even taking share buybacks into account, profits were up 38% year over year.
Considering the size of Apple, that's an astonishing achievement, but Wall Street dismissed it.
Also ignored was the China success story.