Years ago, when I was doing monthly analysis on Iran's oil and gas industry, one of the biggest quandaries was trying to make market sense out of what came from the leadership in Tehran.
Well, the past 72 hours and the July 14 Iran nuclear deal have brought me back to those days.
Back then, it was not unusual for Iran's religious and political heads to shoot themselves in the foot economically every time they opened their mouths on policy matters. And Iran remains one of the most convoluted webs of power relationships and brokerages anywhere.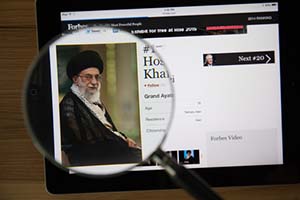 Recent statements from the Iranian Supreme Religious Leader, Ayatollah Ali Khamenei, and Iranian Revolutionary Guard Corps (IRGC) military commander, Major General Mohammad Ali Jafari, have certainly appeared to have thrown a monkey wrench into the recently negotiated nuclear deal between Iran and world powers.
In fact... it is almost as if they want to bait the U.S. Congress into rejecting the deal.
Here's why...
The Situation in Iran Grows Worse
In return for the International Atomic Energy Agency (IAEA) monitoring its nuclear program, Iran for the first time in a decade has a genuine opportunity to increase oil and gas production, investment, and exports. All of which would inject very badly needed revenue into a domestic economy that collapsed some time ago.
As I have noted before, those who have warned about a flood of Iranian oil exports drowning the market simply do not understand how bad matters in Iran actually are.
Field operations are, frankly, a mess. The exchange of domestically trained technical personnel for experienced but now cut-off Western services has been a failure despite Chinese assistance, Iran's broader banking networks are illiquid, and there are few knowledgeable oil people left in Iran's oil ministry or state oil company.
Iranians have known deprivation, crippling inflation, high unemployment, a rapidly devaluing local currency, and the lack of essential products before. Virtually the entire period following the 1979 Revolution has witnessed such fallout.
But there is no question about what the Western sanctions accomplish...
Join the conversation. Click here to jump to comments…
About the Author
Dr. Kent Moors is an internationally recognized expert in oil and natural gas policy, risk assessment, and emerging market economic development. He serves as an advisor to many U.S. governors and foreign governments. Kent details his latest global travels in his free Oil & Energy Investor e-letter. He makes specific investment recommendations in his newsletter, the Energy Advantage. For more active investors, he issues shorter-term trades in his Energy Inner Circle.