In just the last few trading days, the price of gold has tanked by $50 per ounce, or just over 4%.
Over the past month, gold has lost $100 per ounce, or 8.3%, bringing the yellow metal to its lowest in five years.
The gold sell-off has some precious metals investors' nerves rattled. Gold sentiment right now is worse than it has been with other sell-offs.
So what's really causing this gold price plunge, and, more importantly, what should you expect next?
Here's a close look at what's going on with the price of gold…
What's Next for Gold After Bear Raid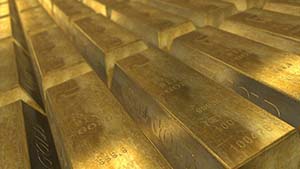 On Sunday night, when many markets were shut and liquidity was low, about $2.7 billion worth of gold futures were dumped on the Comex in under two minutes. At one point, in the space of a single minute, 7,164 contracts equal to about 22 tons were traded.
At a time of day with so little liquidity, and such a large volume being sold in a very short time period, it's hard to imagine the cause being anything other than forced selling for the goal of driving gold's price lower.
According to The Wall Street Journal, "In Shanghai, close to five metric tons of gold was sold on the Shanghai Gold Exchange in a two-minute window just before 9.30 a.m. local time, in a market where the normal daily volume traded is 25 tons, the ANZ report said."
"ANZ added that there was an unusual spike in trading volumes in a gold futures contract in U.S.-based Comex, just before Shanghai opened."
Ross Norman, chief executive of bullion brokerage Sharps Pixley, said the volume of selling in such a narrow window suggests a careful effort to short the market and bears no relation to market fundamentals.
"They weren't looking for the best price, they were looking for the biggest impact," he said.
It's called a bear raid. As Money Morning Chief Investment Strategist Keith Fitz-Gerald explained yesterday, Chinese traders capitalized on low liquidity conditions stemming from Japanese markets being closed for Umi no hi, or Ocean Day, a national Japanese holiday.
Since this attack on gold followed China's gold reserves report, some suggested this was a very strategic move…
China's Effect on the Gold Price Slump
The People's Bank of China reported an update last Friday to its official gold reserves.
Join the conversation. Click here to jump to comments…
About the Author
Peter Krauth is the Resource Specialist for Money Map Press and has contributed some of the most popular and highly regarded investing articles on Money Morning. Peter is headquartered in resource-rich Canada, but he travels around the world to dig up the very best profit opportunity, whether it's in gold, silver, oil, coal, or even potash.