If you listened to Wall Street – rarely a good idea – you'd think that software firms are little more than aging dinosaurs in the tech sector.
After all, it seems like eons ago when these "dinosaurs" were scrapping hard to land prime placement for their products at brick-and-mortar stores.
However, no meteor has come along and taken out software and our need for it – far from it, in fact.
It's just moved – to the cloud.
Rather than buying shrink-wrapped packages full of CDs, we now "rent" software as a monthly service delivered to us via the web.
According to the analysts at International Data Corp., this cloud-computing subsector, Software-as-a-Service (SaaS), will reach $50.8 billion by 2018, up from $22.3 billion in 2013. That's an annual growth rate of nearly 18% in five years.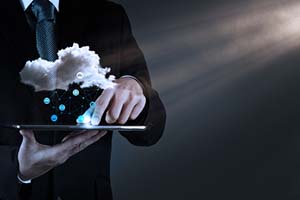 With big money and fast growth like that up for grabs, you know that plenty of tech-savvy newcomers are shaking up the marketplace.
On the other hand, Wall Street is partly right – most of the old-school software companies are struggling to stay relevant.
But one Silicon Valley legend is quietly transforming itself into a cloud-based provider of essential software tools. (I bet you use at least one of them.)
Today, I'm going to show you how this company is doing that.
And then I'll lay out how you can use it to make 100% gains in less than five years…
20 Years of Number Crunching
I'm talking about Intuit Inc. (Nasdaq: INTU), a company that's been around since 1983 – truly "eons" in the modern tech age.
This software firm has been taking the stress out of taxes and accounting with TurboTax, QuickBooks, and Quicken.
And more recently, Intuit pioneered the move to cloud-based accounting when it launched QuickBooks Online in 2001.
Today, that service has more than 1 million subscribers.
But it has much more aggressive plans for the cloud. Intuit plans to more than double its number of cloud subscribers by the end of 2017.
I'm confident it can accomplish that goal.
Consider this statistic from a report I just read…
Join the conversation. Click here to jump to comments…
About the Author
Michael A. Robinson is one of the top financial analysts working today. His book "Overdrawn: The Bailout of American Savings" was a prescient look at the anatomy of the nation's S&L crisis, long before the word "bailout" became part of our daily lexicon. He's a Pulitzer Prize-nominated writer and reporter, lauded by the Columbia Journalism Review for his aggressive style. His 30-year track record as a leading tech analyst has garnered him rave reviews, too. Today he is the editor of the monthly tech investing newsletter Nova-X Report as well as Radical Technology Profits, where he covers truly radical technologies – ones that have the power to sweep across the globe and change the very fabric of our lives – and profit opportunities they give rise to. He also explores "what's next" in the tech investing world at Strategic Tech Investor.