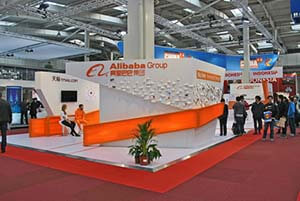 What does Alibaba own? The answer: A lot more than just e-commerce websites.
Alibaba Group Holding Ltd. (NYSE: BABA) is a $209 billion Chinese conglomerate best known for its e-commerce platforms.
It maintains a network of 14 websites that all operate differently.
Alibaba.com is the world's largest business-to-business platform for small businesses. Tmall.com is a consumer-to-consumer platform that operates similarly to eBay Inc. (Nasdaq: EBAY). Alibaba's largest site, TaoBao, is similar to Amazon.com Inc. (Nasdaq: AMZN).
While those sites are what Alibaba is best known for, the company is involved with a lot more than just e-commerce.
Here are five things that Alibaba owns that very few investors know about...
Sign up for SMS so you never miss special events, exclusive offers, and weekly bonus trades.
What Does Alibaba Own? A Professional Soccer Club
On June 5, 2014, Alibaba's founder Jack Ma decided to pay $192 million for a 50% stake in the Chinese professional soccer team Guangzhou Evergrande Football Club.
Following the purchase, the team was renamed Guangzhou Evergrande Taobao Football Club. It's one of the most popular teams in China and was the winner of the 2013 Asian Football Championship.
According to a report from Bloomberg at the time, Ma struck the deal over drinks with billionaire Hui Ka Yan and later finalized it over a 15-minute phone call.
After the deal, Ma said the purchase was part of his plan to transform Chinese society and the landscape of soccer in the country.
What Does Alibaba Own? 28,100 Acres in Upstate New York
In early July 2015, Ma shelled out $23 million for a property in New York's Adirondacks that was once owned by William A. Rockefeller, Jr.
The 28,100-acre estate, called Brandon Park, is roughly 30 miles northwest of Lake Placid.
"Mr. Ma plans to form a nonprofit entity to manage Brandon Park," Ma's spokesman Jim Wilkinson told The Wall Street Journal. "The land is Ma's first investment in conservation land outside of China, where he is a prominent supporter of conservation efforts."
Ma has a history of environmental conservation. He chairs the China board of the Nature Conservancy and also sits on its global board. He co-founded the Sichuan Nature Conservation Foundation and the Laohegou Nature Reserve in Sichuan.
Continue reading for three more things you probably didn't know Alibaba owns...