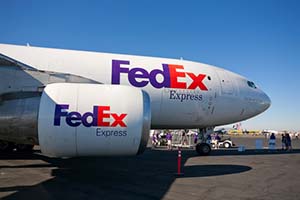 FedEx Corp. (NYSE: FDX) announced this week that it plans to purchase 50 additional Boeing 767 aircrafts from Boeing Co. (NYSE: BA) between 2018 and 2023.
These confirmed orders are coupled with options to purchase another 50.
This is all part of a FedEx plan to modernize its air fleet with the Boeing 767. FedEx currently has 106 firm orders for Boeing 767 crafts through 2023.
The Seattle Times reports that this Boeing 767 order, at standard discounts, could be worth about $4.2 billion.
BA stock is up 5.3% since falling to $138.72 in late June. Despite some hiccups on the year, BA stock is still up an impressive 12.4%.
This recent order is an endorsement of the superior Boeing product from a key corporate client. It shows that while Boeing may face negative headlines in the press for any slight misstep of its ambitious 787 Dreamliner craft, it ultimately proves to deliver.
"This company is riding some powerful long-term trends, making it one of the best big-cap profit plays in the market," Money Morning Executive Editor Bill Patalon said.
What Investors Should Take Away from Boeing 767 Order
BA stock has had to stomach some volatility in recent history.
In January 2013, a parked Japan Airlines 787 at Logan Airport in Boston caught fire. It wasn't carrying any passengers at the time, but faulty batteries caused the grounding of 50 Dreamliners.
The negative publicity continued throughout 2013, with another battery fire and two crashes in the summer.
But Patalon knew to look beyond the incidents when evaluating the value of Boeing stock.
"I've seen these kinds of media 'feeding frenzies' take hold more times than I can count," Patalon said. "They take on a life of their own – meaning that facts, logic, and context can fall by the wayside."
Patalon urged loading up on BA stock at those cheap prices. It's just about doubled since then. And the FedEx purchase of 50 Boeing 767 crafts shows that while the media may relish any opportunity to overhype the Dreamliner project, Boeing still knows how to deliver in spite of this media "feeding frenzy."
BA stock is still trading almost 9% off its 52-week high of above $158. And with this Boeing 767 purchase, you can be sure that Boeing is keeping its corporate clients happy.
This, coupled with long-term trends – Boeing estimates the global jet market to be worth $5.6 trillion in the next 20 years – will help BA stock to $200 long term.
The Bottom Line: Unfortunately, BA stock always seems to garner more panic selling over some "problem" in its Dreamliner fleet than it does buying on good news like this Boeing 767 FedEx announcement. While there may be some hiccups, in the long run, Boeing knows commercial jetliners and is delivering to large corporate customers. If you act now, while BA stock is still trading off its highs, you could be in for some big gains as it crawls up to $200.
Jim Bach is an Associate Editor at Money Morning. You can follow him on Twitter @JimBach22.
Don't believe the panic…Yes, it was a big earnings loss, but don't let it fool you. Microsoft is still a buy.