Prescription drug spending continues to hit record highs, and the world's top pharma companies continue to bank billions.
More than $374 billion was spent on prescription drugs in the United States in 2014, according to a report from the IMS Institute of Health. That was a 13.1% jump from 2013, and the highest growth rate in more than a decade, says ExpressScripts.
Here's a look at how U.S. prescription drug spending has trended over the last 10 years: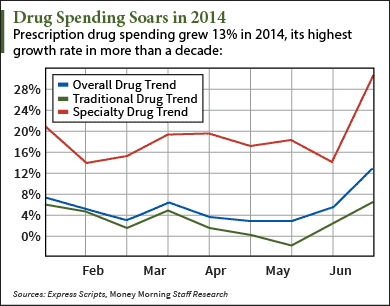 Specialty drugs have been the biggest revenue generators for pharma companies. According to ExpressScripts, spending on specialty drugs grew more than 30% in 2014.
And that high growth rate is expected to continue through 2017. Here's the expected spending growth for each drug class over the next three years: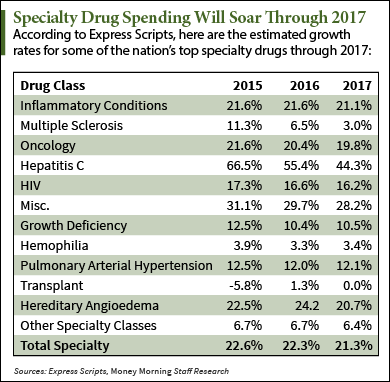 Pharma Companies Consistently Outpace the Markets
The cost of many of these drugs is a severe burden on many patients. The average price of cancer drugs in the United States reached $100,000 per year in 2012, according to the Mayo Clinic. Newer medications regularly top $150,000 per patient per year.
Many "have to make difficult choices between spending their incomes [and liquidating assets] on potentially lifesaving therapies or forgoing treatment to provide for family necessities," Mayo Clinic doctors wrote in a monthly peer-reviewed journal, according to The Wall Street Journal.
And while the burden of these prices changes the lives of many patients, the world's top pharma companies are enjoying extreme success.
In 2015, the S&P Pharmaceuticals Select Industry Index has soared 23.2%. During the same time, the S&P 500 is up just 1.6%. Taking a longer view, the pharmaceutical index is up an incredible 210.8% in the last five years. The S&P is up 58%.
Follow us on Twitter @KyleAndersonMM and @moneymorning.
Like us on Facebook: Money Morning.
How to Profit from the Biotech Industry Now: The biotech and pharmaceutical industries are absolutely booming with M&A activity in 2015. In the first quarter alone, more than $166 billion was spent by Big Pharma companies. Best of all for investors, there is an investment that's tapped into this market. Few investors know of its potential, but it has already returned 23% in 2015. And that's just the start...
Related Articles: