After a year-long slide that has sawed more than 21% off the Qualcomm stock price, the company is considering drastic steps to revitalize its shares.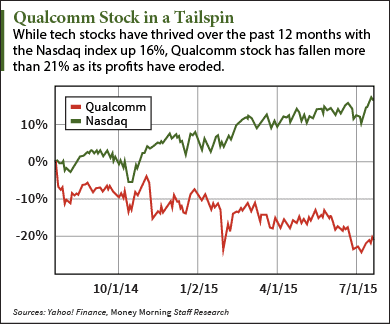 And the most dramatic is the consideration of splitting the chip making and patent licensing units into two separate companies.
A Qualcomm Inc. (Nasdaq: QCOM) breakup was first suggested in April by activist investor Jana Partners. Jana has a stake of about $2 billion in the San Diego, Calif.-based company.
Back then, management resisted. CEO Steve Mollenkopf said the two units supported each other in important ways.
But a sour Qualcomm Q2 earnings report on Wednesday coincided with an announcement of a "strategic realignment plan," which includes a months-long review of whether a breakup makes sense.
No doubt the weak earnings played a big role in changing management's position.
Awful Earnings Punish Qualcomm Stock Price
QCOM reported that its profits had plummeted 47% from the same period a year ago, with earnings per share falling from $1.31 to $0.73. Revenue was down 14% from $6.8 billion to $5.8 billion.
That sent the QCOM stock price down 1.8% in after-hours trading Wednesday. The carnage continued on Thursday, with Qualcomm stock shedding 4% on the day to close at $61.34.
And this isn't a temporary bump in the road. Profits also shrank 46% in the previous quarter. Looking ahead, Qualcomm lowered guidance for revenue and EPS for both the current quarter and the full year. Most of the trouble is due to continuing pressure on the chip making business.
"We decided we were going to take a fresh look at the corporate structure of the company," Qualcomm President Derek Aberle told Reuters. "The environment is constantly changing so the analysis done earlier may not be valid anymore, so it's in that context that we're taking a look at it again now."
Other measures Qualcomm is taking at Jana's suggestion include slashing costs by $1.4 billion, partly by cutting 4,500 jobs (about 15% of its workforce), reaffirming its intent to return significant capital to shareholders, and reorganizing its board of directors.
Jana's position in April was that Qualcomm's chip making business essentially contributes no value to the Qualcomm stock price, even though the company is the world's largest maker of smartphone chips and the No. 3 chip maker overall.
But that sales success isn't quite what it seems…