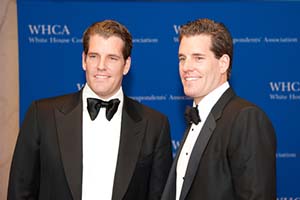 The Gemini Bitcoin exchange, another Bitcoin-related Winklevoss twins project, took a major step forward last week.
Cameron and Tyler Winklevoss filed an application with the New York State Department of Financial Services (NYDFS) for the Gemini Bitcoin exchange to operate as a trust company.
Under New York law, a trust company shares many of the same privileges as a bank, including taking deposits – a key ability for any company wishing to operate as a Bitcoin exchange.
Approval is expected to take a minimum of several weeks, if not months.
The Winklevoss twins also are awaiting U.S. Securities and Exchange Commission approval of the Winklevoss Bitcoin Trust, a Bitcoin exchange-traded fund (ETF) that will trade under the ticker Nasdaq: COIN.
Why the Gemini Bitcoin Exchange Matters
The Winklevoss twins first announced the Gemini Bitcoin exchange in January and intend to operate across the whole of the United States. Should the NYDFS approve Gemini, however, it won't be the first U.S. Bitcoin exchange to get regulatory approval.
The ItBit Bitcoin exchange snagged that distinction back in May.
But the rise of government-approved Bitcoin financial entities, like the increasing interest from Wall Street, is vital to creating public trust in the digital currency. Approval of the Gemini Bitcoin exchange will be a major piece of that process.
The Winklevoss twins gained fame as the roommates of Facebook Inc. (Nasdaq: FB) CEO Mark Zuckerberg. They sued him for $140 million for stealing what they said was their idea for the social network.
Since then, the Winklevoss twins have become prominent investors in Bitcoin. The twins are believed to hold at least 100,000 bitcoins, worth about $29 million at today's Bitcoin price of about $290.
The Winklevoss twins also created their own Bitcoin price index, the Winkdex, which uses a weighted formula based on trading at the top three Bitcoin exchanges.
Follow me on Twitter @DavidGZeiler.
The China-Bitcoin Connection: While some thought the recent bounce in the price of Bitcoin from $223.31 on June 1 to as high as $310 on July 12 was due to the Greek debt crisis, the plunge of the Chinese stock market also coincided with the Bitcoin price surge. Here's why it's much more likely that China, not Greece, was the force driving Bitcoin higher…