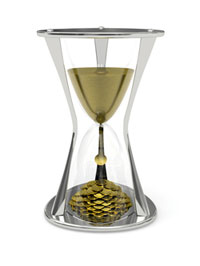 Gold price prediction 2015: A gold "flash crash" shook markets July 19, sending the metal down $50 an ounce in a matter of seconds to its lowest level since 2010.
But the tumble didn't stop there. In fact, last week's events were so dramatic they necessitate an updated gold price prediction for 2015.
"Gold's hard-and-fast tumble below $1,100 an ounce last week means some investors may be tuning out the yellow metal or suffering from gold 'burnout,'" Money Morning Technical Trading Specialist D.R. Barton, Jr. told readers July 27. "But ignoring it is a huge mistake. It has been and always will be one of the best stores of value, and it's a crucial hedge against economic upheaval. It's a must-have holding."
Here's exactly what happened to gold last week – and our new gold price forecast to make the yellow metal work for you in coming months…
Gold "Flash Crash" Aftermath
Just before 9:30 p.m. ET on Sunday, July 19 – or just as China's market opened for trading – someone dumped five tonnes ($2.7 billion worth) of gold on the Chinese market. That's the equivalent of one-fifth of a whole day's trade in a normal session. The gold price per ounce promptly fell to a five-year low of $1,088.05 an ounce.
Bullion lost more than 3% last week after the gold flash crash sparked more sell-offs. The metal fell as low as $1,077 by Friday, July 24 – its cheapest price since February 2010.
Holdings in the SPDR Gold Trust ETF (NYSE Arca: GLD), the world's biggest gold-backed exchange-traded fund, fell for a seventh day in a row to 21.87 million ounces on Friday. That marks GLD's lowest level since September 2008.
And U.S. government data released Friday showed speculators had turned bearish on Comex gold for the first time since at least 2006 in the week ending July 21 (the week of the flash crash).
"Last Monday's 'bear raid' in Shanghai brought gold down to 13-year lows before settling at five-and-a-half year lows, and it's absolutely vital that we know when this downward pressure will stop so that we don't 'call a bottom' too quickly," Barton said.
You see, after last week, the key to any accurate gold price prediction for 2015 is finding gold's bottom – and of course, its subsequent march back up…