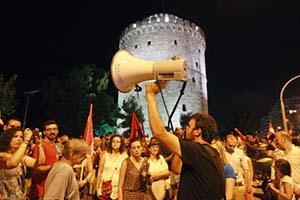 The Greek bailout is the latest exercise in a geopolitical ploy to expand European business interests and reinforce North Atlantic Treaty Organization (NATO) doctrines.
The last of the troika's worries – that is, the worries of the European Commission, the European Central Bank (ECB), and the International Monetary Fund (IMF) – include ensuring the economic stability of Greece.
This is obvious because this third Greek bailout in five years is following in the footsteps of past failed IMF bailouts.
This exercise of piling one loan after another on top of an already bankrupt economy can only work for so long before the inevitable happens – the inevitability being a major debt write-down, if not an all-out default.
Just look at the IMF's work in Latin America that began in 1982. That was when Mexico declared itself insolvent. It touched off a flurry of sovereign defaults on the continent.
The case of Brazil was particularly telling, where the IMF and major banks attempted to do what the troika is doing with Greece.
"The plan set a fateful precedent of 'curing' the debt crisis by heaping on more debt," author Ron Chernow details in his book, "The House of Morgan." "In this charade, bankers would lend more to Brazil with one hand, then take it back with the other."
The Latin American debt crisis ended when U.S. Treasury Secretary Nicholas Brady orchestrated a resolution that allowed the conversion of third-world debt into so-called "Brady bonds."
Creative debt restructuring aside, the Latin American debt crisis was illustrative of the futility of international debt resolutions that fall short of a major write-down or default. Unsustainable debt can't be repaid with more debt. It only helped to cripple South American economies like Brazil.
Now similar efforts have continued to impoverish Greece.
So if the IMF and the some of the nation's largest banks are already well acquainted with the hazards of repeated sovereign bailouts, why are they continuing the madness with Greece?
There's only one logical conclusion…