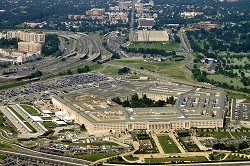 Yesterday (Wednesday), a number of key defense stocks were up big.
Leading the pack was Northrop Grumman Corp. (NYSE: NOC). NOC stock soared 6.2%. Raytheon Co. (NYSE: RTN) stock was up 4.1%. General Dynamics Corp. (NYSE: GD) jumped 3.9%. And Lockheed Martin Corp. (NYSE: LMT) stock got a 2.2% bump.
This is even as the U.S. Congressional Budget Office projects a $20 billion cut to defense spending - from $606 billion in 2014 to $586 billion, down 3.3%.
So how do defense stocks continue to soar even as the Pentagon pulls back?
There are a number of reasons right now.
And identifying them can help investors to determine the best defense stocks to buy right now...
How to Find the Best Defense Stocks to Buy Right Now
It's difficult to make a case against defense stocks outside of the typical "military industrial complex" or "merchants of death" criticisms that color the ethical arguments against defense stocks.
And while ethical considerations are certainly a valid reason for not buying a company's stock, it's hard to argue with the opportunities that could come from any of the four stocks mentioned above.
The government contracting business is an extremely difficult business to crack into. The big multi-billion dollar defense projects are almost always going to be awarded to one of the names above. And even after one big contract is awarded to one defense giant, another defense giant will muscle its way into the contract by supplying some component or another.
Just look at the F-35 Joint Strike Fighter project. This $1.4 trillion, 56-year program, aimed at consolidating the jet fighter fleet for the U.S. Air Force, the U.S. Navy, the U.S. Marine Corps, as well as the UK Royal Air Force and the Royal Navy, has Lockheed Martin as its principal contractor. We've explained before how this blockbuster contract is going to feed the LMT stock price for years to come.
But LMT stock is not the only company that will get a boost. NOC stock and BAE Systems Plc. (OTCMKTS ADR: BAESY) will also see a healthy stream of contractor money come their way as they supply fuselage parts. The barriers to entry in the defense industry are so massive that the smaller players typically compete for subcontracting roles within a bigger project that goes to the Northrop Grummans and Lockheed Martins of the world.
Contracting favors familiarity. In Washington, there's a large revolving door of politicians and officials holding the military's purse strings who have fulfilled consulting roles or served on boards for major military contractors.
This speaks to the fact that defense stocks are typically a safe bet, if for no other reason than they have Congressional pork coming their way.
But even if the United States cuts military spending as it is doing at the moment, that doesn't mean the profits will stop coming.
One of the perks of being a company like Lockheed Martin is the sheer lobbying muscle of the firm and firms like it. Not only can they market large projects as massive job creators - so as to brand any congressional action to cut programs a job killing measure - but they have sway in massive global security issues as well.
The North Atlantic Treaty Organization (NATO) and its expansion are a good example. Defense firms kicked their lobbying efforts into high gear in the late 1990s as NATO was making a move to swallow up Poland, the Czech Republic, and Hungary. This was because NATO's military spending and modernization programs require member countries to bulk up, presenting a profit opportunity for big defense contractors to sell on a global scale.
And it continues to pay dividends. The recent Russian posture toward Ukraine has all three of those NATO members increasing their military positions. As the U.S. defense budget comes under the knife, defense contractors will have an opportunity to look abroad.
The best defense companies have ways of getting around domestic defense cuts. That can be achieved either through expanding globally or diversifying the product portfolio toward peacetime solutions.
And this next company may well be No. 1 of the best defense stocks to buy right now...