China's stock market crash continued today (Thursday) as the Shanghai Composite Index tumbled 2.2% to 3,705.77.
The CSI 300 Index slumped 2.93% to 3,815.41. The smaller Shenzhen Composite slid 3.21% to 2,128.16.
Thursday's declines mostly wiped out the robust gains logged Wednesday amid increased efforts by government officials to calm recent volatility following China's stock market crash.
The Shanghai Composite Index rose 3.5% Wednesday to 3,789.16. The CSI 300 Index jumped 3.1%, while the Shenzhen Composite gained 4.1% to 2,198.81. Hong Kong's Hang Seng Index finished up 0.5%. Some 400 stocks listed in Shanghai and Shenzhen hit their 10% upward daily limit.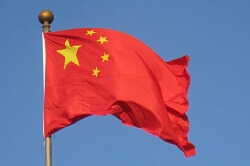 Fueling Wednesday's gains were comments late Monday from the China Securities Regulatory Commission that the local government will increase purchases of equites. Additionally, China's central bank added cash into money markets and made it clear that further monetary easing was possible.
And in a move to show China's more than 90 million individual investors that officials are keeping an eye on market gyrations, the country's securities regulator said it is investigating share dumping events that occurred Monday during China's stock market crash.
In the biggest one-day percent drop in over eight years, Chinese shares swooned 8.75% to 3,725.56 on Monday. Hundreds of billions of dollars in market value was erased. The crash also put an end to a three-week period of stability Beijing had achieved by intervening with as many as 40 different measures.
More than two-thirds of the 1,114 companies in the index fell by the 10% daily maximum allowed under market rules on Monday. The Shenzhen Composite Index plunged 7% to 2160.09, bringing its losses to 31% since peaking in mid-June.
The selling continued Tuesday morning, with Shanghai shares falling 4.2% and Shenzhen shares dipping 4.3% right out of the gate.
According to Credit Suisse, China's stock market crash is becoming an issue for the country's growth. As a result, the country's ability to service future debt has also become a problem.
China's government has a 7% target for economic growth this year, much lower than the double-digit figures common in the last several years. Yet even that toned-downed target may still be too high given the jittery state of the economy.
While many investors are worried about China's stock market and its impact on U.S. markets, you don't have to panic.
Watch the video for an explanation of China's stock market crash, plus how investors can protect themselves – and even profit – from these events… 
Stay informed on what's going on in the markets by following us on Twitter @moneymorning.
Protect Your Investments from China's Next Crash: A stock market crash in China isn't just limited to the Asian country. The ramifications are felt in stock markets across the world, including the United States. Now is the time to safeguard your investments before a stock market crash in China wipes out your savings…
Related Articles: