C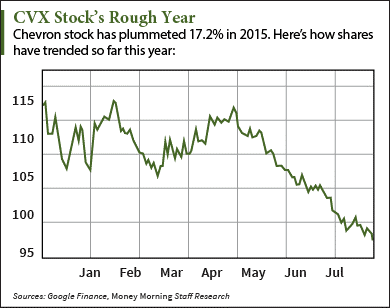 hevron Corp. (NYSE: CVX), the second-largest oil company in the United States, reports its second-quarter earnings before the opening bell tomorrow (Friday).
These earnings are significant because the Chevron stock price is down 17% this year and currently hovers near $93 a share. That makes it the single worst-performing Big Oil stock of 2015.
The Chevron stock price has fallen farther than the four other supermajors: BP Plc. (NYSE ADR: BP), Exxon Mobil Corp. (NYSE: XOM), Royal Dutch Shell Plc. (NYSE ADR: RDS.A), and Total SA (NYSE ADR: TOT). They're down 1%, 10.5%, 13.6%, and 4.5%, respectively.
Big Oil's downturn is a direct result of the crash in crude oil prices over the last year. WTI prices hit a new low of $46.68 a barrel this week. They're now down more than 50% from a high of $94.88 last summer.
That means the billions of barrels of oil each company owns are now worth about half as much as they were a year ago.
The crash will certainly weigh on Chevron's Q2 earnings tomorrow, just like it did in the first quarter. The company posted $2.6 billion in Q1 profit, down 43% from $4.5 billion year over year.
With earnings quickly approaching, investors are wondering what to do with CVX stock now...
How Should I Play the Chevron Stock Price?
Even if the Chevron stock price surges after its Q2 earnings come out, it will only be a temporary inflation. With all of the bearish sentiment surrounding oil stocks during earnings season, CVX stock is not a buy right now.
According to Money Morning Chief Investment Strategist Keith Fitz-Gerald, there are two better oil firms to invest in right now. That's because both operate in the midstream sector. That means they gather and store oil rather than produce it.
You see, midstream companies are like toll booths collecting money from companies using the infrastructure to transport oil. They remain profitable as long as oil is produced. The nature of their services insulates them from volatile energy prices.
One of the stocks has skyrocketed 24.2% since Fitz-Gerald first recommended it on Jan. 7. Here's a breakdown of both companies and their strong long-term growth potential...
Alex McGuire is an associate editor for Money Morning who writes about oil and natural gas. You follow him at @AlexMcGuire92.