West Texas Intermediate (WTI) is down 5%. As of midday July 28, the October $15 puts on the United States Oil Fund LP ETF (NYSE Arca: USO) that I recommended buying when they traded at $0.50 each were up 40% and trading at $0.70 each.
Here's what's next for oil prices – and what to do with your winning USO position…
When Bad News Is Good News
Crude oil is in a bear market – again. It's down 20% from its most recent highs set on June 10.
Oil – being a commodity – mostly trades based on supply and demand. And because there's been an increasing supply of oil in the face of only a moderate pickup in global demand, oversupply is leading to further price cuts.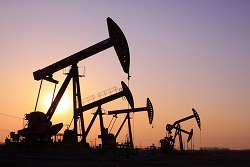 Thanks to an explosion of shale oil, the United States is producing 9.7 million barrels of oil a day. That new record, eclipsing the old mark set back in 1970, makes America the third-largest oil producer behind Saudi Arabia and Russia.
Additionally, Saudi Arabia and Iraq are producing at record levels themselves, and Russia is desperate for revenue, which it gets by selling its oil. Then there are prospects that disruptions in crude production in Libya could soon be reversed, and Iran is capable of adding another million barrels a day to global supply, if and when sanctions are lifted.
However you look at it, there's a lot more oil coming to market in the foreseeable future.
Morgan Stanley (NYSE: MS), whose analysts underestimated the supply of crude coming to market, now says a potential oil crash could be the worst in 45 years.
That's good news if you're short oil or short oil-services companies – as we are in my Short-Side Fortunes advisory service.
Or if you followed my recommendation here to buy put options on the U.S. Oil ETF…
The October $15 puts (USO151016P00015000) I recommended here had surged 40%. And with the oil supply rising, there's room for those puts to go higher – maybe a lot higher.
Here are some options to manage this trade now…
Join the conversation. Click here to jump to comments…
About the Author
Shah Gilani is the Event Trading Specialist for Money Map Press. In Zenith Trading Circle Shah reveals the worst companies in the markets - right from his coveted Bankruptcy Almanac - and how readers can trade them over and over again for huge gains.Shah is also the proud founding editor of The Money Zone, where after eight years of development and 11 years of backtesting he has found the edge over stocks, giving his members the opportunity to rake in potential double, triple, or even quadruple-digit profits weekly with just a few quick steps. He also writes our most talked-about publication, Wall Street Insights & Indictments, where he reveals how Wall Street's high-stakes game is really played.