A recent drop in gold prices has many investors avoiding the precious metal.
But a drop in prices has actually made gold ETFs like the SPDR Gold Trust ETF (NYSE Arca: GLD) some of the best investments on the market.
Every portfolio should include a solid gold position as a means of diversification, inflation hedge, and protection against geopolitical tensions. And the SPDR Gold ETF is one of the best places to start.
There's no denying gold prices have hit a rough patch.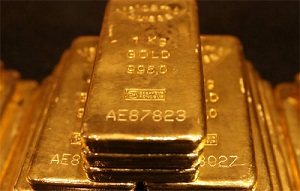 On July 19, a gold flash crash in Asia caused gold to tumble some 4.2%, or about $50, in a matter of seconds. Gold hit its lowest level since March 2010.
Gold ended the week of July 24 at $1,098.20. That capped a four weeks-long slide of nearly 10%.
But with worldwide central bank printing presses running at full speed, Greece teetering on default, and tensions still simmering between Russia and Ukraine, safe-haven gold continues to be the go-to asset as a store of wealth.
"Gold's hard-and-fast tumble below $1,100 an ounce last week means some investors may be tuning out the yellow metal or suffering from gold 'burnout,'" Money Morning Technical Trading Specialist D.R. Barton, Jr. told readers July 27. "But ignoring it is a huge mistake. It has been and always will be one of the best stores of value, and it's a crucial hedge against economic upheaval. It's a must-have holding."
Gold ETFs like the SPDR Gold Trust allow investors to take advantage of the unique characteristics of gold without having to buy an ounce of physical gold coins or bullion.
While holding shares in the fund does come with its cost – a 0.4% expense fee to cover administrative overhead, and a 28% tax on long-term capital gains – it eliminates the burden of storage on the investor's part.
It's impossible to predict exactly when gold prices will rebound. But Barton says that "gold won't stay in the bear run forever; it just seems that way. Patience is required, but keeping an eye on the key technical levels described above will allow you to have a framework for navigating this market."
Stay informed on what's going on in the markets by following us on Twitter @moneymorning.
Profit Alert: Since Money Morning Executive Editor Bill Patalon launched his Private Briefing program just a few short years ago, he's recommended 192 stocks that have either doubled or tripled in value. The service has completely revolutionized the way people invest. Keep reading to find out more about his extensive research and premium stock picks…