Whole Foods Q3 earnings severely disappointed investors today (Thursday), and shares swooned more than 10% in early trading.
After Wednesday's close, Whole Foods Market Inc. (Nasdaq: WFM) posted fiscal Q3 earnings per share (EPS) of $0.43 on revenue of $3.63 billion. That was shy of Wall Street EPS estimates of $0.45 on revenue of $3.69 billion.
The Austin, Texas-based company reported same-store sales rose 1.3%. Analysts were looking for 2.8%, according to Consensus Metrix. Same-store sales (also called comps) are a key metric in the sector because they allow investors to determine what portion of new sales has come from sales growth and what portion can be attributed to the opening of new stores.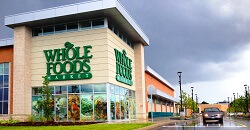 Co-Chief Executive Officer Walter Robb said the sharp drop in same-store sales came at the tail end of the quarter. That was after the New York City weights and measures audit found WFM consistently overcharged for prepackaged foods.
"I want to emphasize, these were not systematic, but rather caused by inadvertent human error," Robb said. "The audit included errors that were favorable to customers, as well. These are weights and measures issues that can be found in any supermarket."
While Robb said Whole Foods is experiencing a slight improvement in those trends, he added that "comps are still well below our 2.5% average for the 19 weeks prior to the negative publicity."
Whole Foods, the grocery store chain best known as a purveyor of natural and organic products, is set to roll out a new line of stores. Called 365 by Whole Foods Market, items will be less expensive and priced in line with rival Trader Joe's. The new stores are expected to help the upscale organic food company better compete, according to a Bloomberg Intelligence study.
"We plan to open up to five 365 by Whole Foods Market stores in the second half of next year, with the expectation of doubling the number of openings in 2017," Jeff Turnas, president of 365 by Whole Foods Market, said on the earnings call.
Looking ahead to its fiscal fourth quarter, Whole Foods expects sales growth of roughly 7% with diluted EPS of $0.34 to $0.35. That's short of the $0.38 analysts had forecast, according to FactSet.
After hitting a 52-week low of $35.82 intraday, shares of Whole Foods were down 10.96% just before noon at $36.34. Year to date, WFM stock is down 27.97%.
Stay informed on what's going on in the markets by following us on Twitter @moneymorning.
Profit Alert: Since Money Morning Executive Editor Bill Patalon launched his Private Briefing program just a few short years ago, he's recommended 192 stocks that have either doubled or tripled in value. The service has completely revolutionized the way people invest. Keep reading to find out more about his extensive research and premium stock picks…
Related Articles: